Head Start and Early Head Start Programs
The research-based Music Together® curriculum has been implemented in Head Start and Early Head Start classrooms throughout the country with ease and success. Music Together's deep knowledge of child development, emphasis on parental involvement, and program adaptability have led to many long-term relationships with Head Start and Early Head Start program partners.
Watch the video below about Music Together as part of a Head Start program in Elkhart County, Indiana.
Rooted in Research
The Music Together program model is rooted in developmentally appropriate practice and research in early childhood and music development. The curriculum was created to incorporate best practices in both disciplines and to be inclusive of the learning styles of all young children, including those with special needs. Over the years, new applications of Music Together have been developed, including work done by our on-staff board-certified music therapist. In addition, the efficacy of the program continues to be tested and reaffirmed in numerous studies by independent researchers.
A study conducted in Head Start classrooms in Bridgeport, CT, demonstrated the value of the Music Together program to improving children's outcomes. Children whose classrooms utilized the Music Together curriculum showed higher gains in language, cognitive, physical, social, and emotional development when compared to a control group.
Read more about the Bridgeport, CT, study (PDF)
The importance of family involvement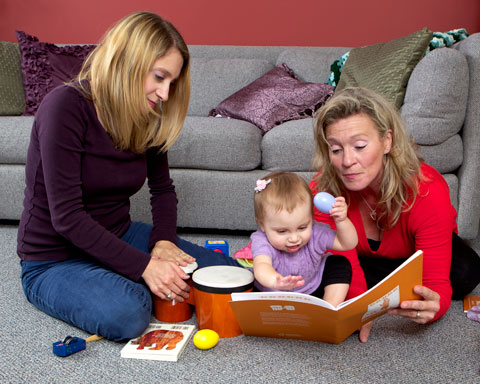 Family involvement is the hallmark of the Music Together program and is interwoven into both parent-child classes and into the curriculum used in school settings. Each participating child receives a song collection recording set and accompanying songbook to bring home and share with their parents, siblings, grandparents, and other family members. These provide an excellent opportunity for increased family interaction and allow parents to create strong, positive bonds with their children through music-making. Parents also receive educational materials created especially for them, which help increase their knowledge of their children's developmental needs. In Head Start classrooms using Music Together, parents of enrolled children are invited to come participate in class whenever possible. Also held every semester are family music events which are fun and accessible avenues for parent-child interaction.
Read more about parent engagement
Program adaptability
The Music Together program is a flexible model that can be adapted to meet the needs of your individual community. Our Outreach Coordinator and other members of the Music Together staff will work with your team to design the best way for Music Together to help you meet your goals.
Staff development
Music Together can be an integral element of professional development efforts. It can also be an enjoyable tool for educators and service providers to create and enhance quality relationships with children and their families. Music Together specialists may hold in-service trainings for all interested staff; or certain individuals may take part in partial or full program trainings. Music Together can also issue Continuing Education Units to educators who participate in in-services that utilize Music Together's Classroom Teacher Professional Development series.
If you'd like to learn more about how Music Together can enhance your Head Start program, please contact us. We would love to speak with you!