Bring Music Together® to Your Practice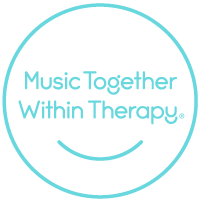 Because music forges connections in the brain—integrating mind, body, and emotions—it can be beneficial to include music in therapeutic interventions for children with a range of language, cognitive, physical, emotional, social, and neurological needs and impairments.
If you are a music therapist, speech therapist, occupational therapist, or another credentialed allied health professional who wants to enhance your practice by using music, Music Together Within Therapy® may be right for you. This program will provide you with high-quality, carefully crafted, research-based music and support tools to address the clinical needs of your clients.
The Music Together Within Therapy program has already been successfully implemented in client homes, as well as at children's hospitals, schools for children with disabilities, speech therapy clinics, music therapy practices, and community-based Music Together centers. As a Music Together Within Therapy provider, you can offer our program's songs, materials, and services anywhere you're currently offering therapy.
Learn More about Music Together Within Therapy
Program Overview and Requirements
Learn more about our program, the support for clinicians that we provide, and the requirements for becoming a licensed Music Together Within Therapy provider.
Therapist Testimonials
Many music therapists and other clinicians have found that Music Together is a wonderful fit for their clients. Hear what some have to say about our program.
Business Support
We make sure you have everything you need to be successful with Music Together Within Therapy. Read more about how we support our licensees.
Music Samples
Listen to a sampling of the songs you might use in your practice.