Expanding the Music Together Recording Family:
New Voices, New Songs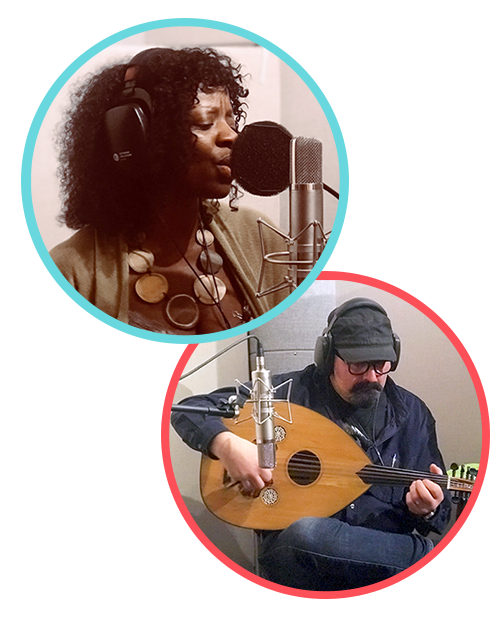 Over the years, many parents have told us that Music Together songs don't sound much like "kids' music." That's by design! From the beginning, we've focused on creating music that children and parents BOTH want to play on repeat. Thanks to the depth and breadth of our compositions, professional production, and high-caliber recording artists, our music has withstood the test of time—even as it has evolved with the times.
We've been busy in the studio, expanding the Music Together repertoire to include different voices and a wider variety of instruments and sounds, in line with our commitment to have music that represents a diverse range of music traditions, cultures, and genres. As the Music Together recording family has grown, we've continued our tradition of including singers and instrumentalists who are outstanding in their fields and who more fully represent the diversity of the world we share. We've been adding updated versions of classic Music Together tunes and brand new songs to Music Together and Rhythm Kids collections since 2018. The sophisticated, musically rich additions have quickly become family favorites!
Read on for a spotlight of a few of the new songs and artists you've been hearing on your Bells recording—plus a sneak peek at what's coming in Triangle. (Do you know what an oud sounds like? You will soon!)

BELLS: More Originals by the Music Together Coauthors
New Bells Singers
• Mary Ellen Assue and Maya Jackson, heard in "Swinging"
New Bells Instrumentalists:
• Karttikeya, Percussion (Drum Set and Bongos), heard in "Swinging" and "Sixty-Six"
• Roxy Coss, Tenor Saxophone, heard in "Sixty-Six"

• George Hazelrigg, Piano, heard in "Sixty-Six" and "Swinging"
Geoff Hazelrigg, Acoustic bass, heard in "Swinging"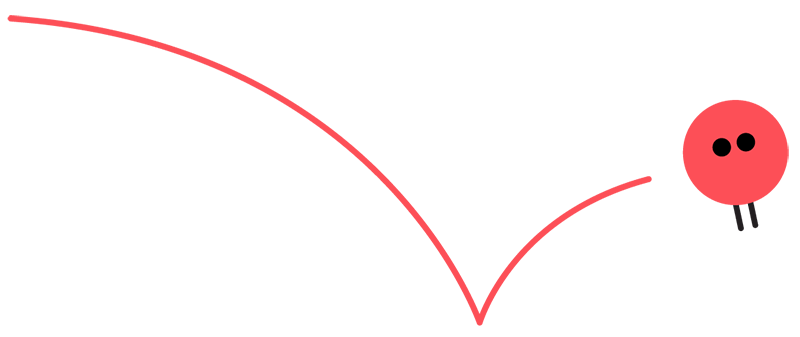 This semester, families have been enjoying two new tunes in the 2021 Bells Song Collection, and they have a fun fact in common: Each was written by one of the Music Together coauthors, Ken Guilmartin and Dr. Lili Levinowitz.
Swinging, written by Lili, is an updated version of an original, and Sixty-Six, is a brand new, jazz-infused play-along by Ken.
Swinging: The Return of a Music Together Classic
by Dr. Lili Levinowitz
This sweet song was in one of the original Music Together collections (circa 1987!), but it was removed at some point to make way for new material. We're so glad it resurfaced, with a re-imagining of the recording.
Sixty-Six: A New Play-along
by Music Together Founder Ken Guilmartin
This jazz play-along is a new, original composition by Ken. "Sixty-six" is in honor of the year Ken and his jazz band went on tour in Montreal, Canada. This recording features outstanding jazz musicians selected by Ken, notably including tenor saxophonist Roxy Coss.
Listen:

Spotlight on Roxy Coss, Tenor Saxophonist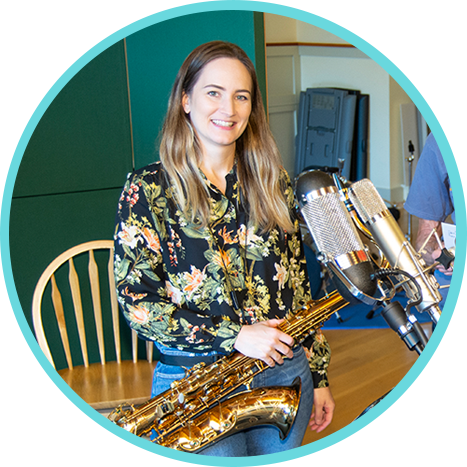 In addition to her work as an award-winning performing artist, saxophonist Roxy Coss is also an educator on the faculty at Juilliard, and an activist who founded the Women In Jazz Organization (WIJO). WIJO intends to help level the playing field in Jazz, so that women and non-binary people have equal opportunity to participate in and contribute to Jazz, leading to an improved and more rich, diverse, and successful art form. They are also committed to honoring Black Americans as the creators of Jazz. Learn more at wearewijo.org.

What's Coming in TRIANGLE: Exciting New Additions
New Triangle Singers
• Mary Ellen Assue, heard in "Meow!" and "Skip to My Lou"
• Maya Jackson, heard in "Meow!"
• Deanna deCampos, heard in "Dreamland Time"
• Elle Gyandoh, heard in "Skip to My Lou"
• Anonymous Lebanese Singer, heard in "Ala Dal'ona"
• Gilberto Gomez, heard in "Dreamland Time" and "Skip to My Lou" (Spanish/English Edition)
New Triangle Instrumentalists:
• Roger Mgrdichian, Oud, heard in "Ala Dal'ona"
• Joe Tayoun, Dumbek and Riq, heard in "Ala Dal'ona"
• Michael Nikolidakis, Guitar, heard in "Dreamland Time"
• Robert Paparozzi, Harmonica, heard in "Meow!"
• Karttikeya, Percussion (Drum Set and Bongos), heard in "Meow!,"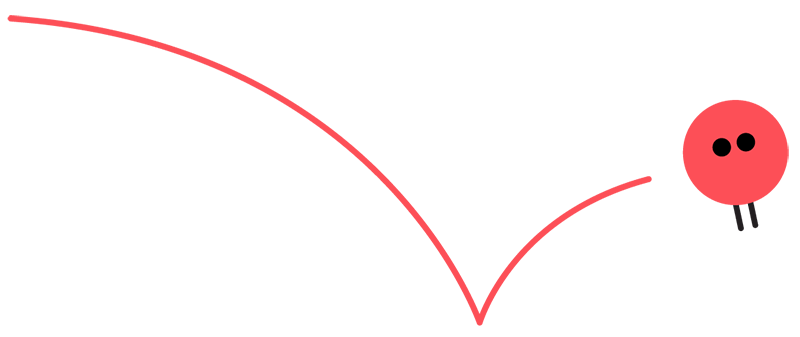 Ala Dal'ona: Straight from Rhythm Kids®
Our version of this Middle Eastern song was originally recorded for Rhythm Kids. We were so excited by its inclusion, we decided to add it to next semester's Triangle Song Collection so more families could enjoy it! Introducing older children to rhythms inspired by cultures from around the world is a key part of Rhythm Kids, and we are committed to representing the sounds of the world as authentically as possible. A Lebanese singer (she wishes to remain anonymous), came in to record "Ala Dal'ona," which also includes the oud, an ancestor of the European lute.
Listen:
In this clip, you can hear the unique sound of the oud being played by Roger Mgrdichian, a musician of Armenian descent who performs regularly in diverse styles of Middle Eastern music (Armenian dance music, belly dance accompaniment, classical Arab and Turkish music, Turkish folk and Arab pop)

Meow!: Explore the Musical Lives of Cats
This new, original composition by K. Guilmartin is sung only on "meow." The song's minor tonality with a unique melodic twist gives it an intriguing sound that's not common in kids' music. It's a classic example of how a simple melodic idea can be transformed into a rich musical exploration, sure to inspire families to get silly in and out of class!

Dreamland Time: New Lullaby in English and Spanish
This gorgeous new lullaby was written by former Director of Program Development, the late Dr. Lyn Ransom, and adapted and arranged by Ken. The lullaby was recorded in both English and Spanish.


Listen:
Listen to the Spanish version of this lullaby, and snuggle up with your child. Sing on "la" or another vocable if you don't speak Spanish.
Spotlight on New Child Singer Maya Jackson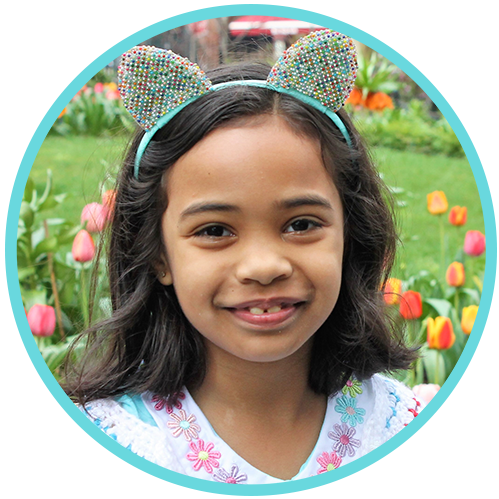 Eleven-year-old Maya Jackson, who can be heard on "Meow!," told us that, in addition to singing, she also likes "art, pottery, soccer, running, playing the piano, composing my songs, making videos, learning about biology, playing with my cat, and writing!" You can read about some of our child singers (some are now adults!) on our website.
---
"Ala Dal'ona" traditional, arranged by Kenneth K. Guilmartin and Deanna deCampos. © 2020 Music Together LLC.
"Sixty-Six" by Kenneth K. Guilmartin. © 2020 Music Together LLC.