Mixed-Age Music Classes for Kids
Classes for babies through 5 years . . . and the grownups who love them®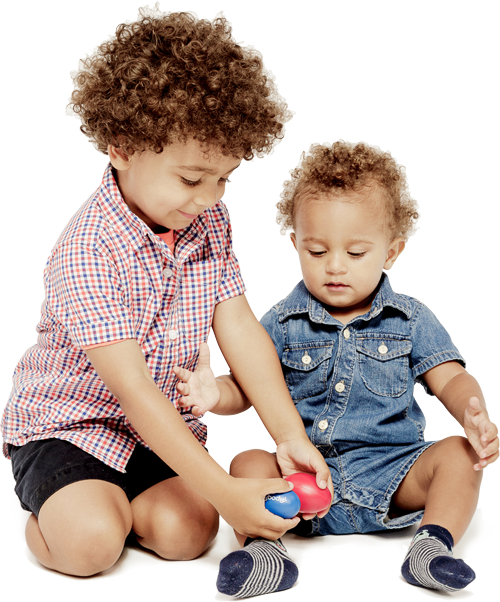 The cornerstone of the Music Together® program is our Mixed-Age music class, for children from birth through age 5—and the grownups who love them! Whether your class is outdoors, in a classroom or online, all are active music-making experiences, designed to teach the way children learn: through play with the grownups they love. (Visit our Class Locator to find options in your area.)
Gathering babies, toddlers, and preschoolers together makes each class fun for all. There are lots of group activities for kids out there, but Music Together offers a true family music class for the youngest infant to the oldest great-grandparent, and everyone in between. Imagine an extended family with a dozen or more kids and a bunch of caring adults, and you'll get the idea!
Each week, a trained Music Together teacher leads the class in singing, dancing, and playing songs that range from tender lullabies to boisterous jams using child-friendly percussion instruments. Our award-winning music, illustrated songbook, and other print and online resources will help you continue the music-making fun at home and nurture your child's musical growth—even if you don't think of yourself as a great singer or dancer. Like parenting, making music requires no previous experience or expertise, just a willingness to get down on the floor and get silly with your child!
The Rationale for Mixed-Age Classes
Music Together was the first early childhood music program to offer music classes for mixed ages. Child development researchers have known for a long time that the natural, family-style environment of mixed-age classes is the best way for young children to learn. In our experience, it works! In Mixed-Age classes, the older children love to show what they know, and the younger ones love to watch and imitate. The relaxed, no-pressure environment lets all kids learn at their own pace. Read what parents have to say about Music Together's Mixed-Age Classes.
Testimonials
Hear what parents have to say about Music Together's Mixed-Age Classes
"We have been involved in Music Together since my daughter was less than a year old. I truly credit this amazing programing with giving her innate musicality a formal grounding...Not to mention the other developmental benefits she has received!"

–Parent, Ohio
"Thanks to this incredible program, I now have a repertoire of hundreds of songs that are sung daily in my home, in the car, in the grocery store, and at any moment in time!"
–Parent, New York City
"My husband teases me because whenever I mention Music Together to anyone, he always pipes up my next line which is 'best money we ever spent.' I truly mean it. Kudos to Ken and Lili for a program that outshines any other I have seen around."
—Kim, Princeton, NJ