All Ages, All Stages
Music Together® classes are all about relaxed, informal music-making for the whole family, regardless of age, stage, or learning style. Because the things we do in class are developmentally appropriate for all participants, you and your child with special needs are always welcome to join our warm and inviting communities of singing, dancing, instrument-playing families.
Mixed-Age Classes
Children with special needs fit right in to our Mixed-Age classes! Mixed-Age classes include children from birth through age 5, so most of them are at different stages of development. All learning styles are respected, and regardless of age or stage, all children are encouraged to participate in their own way.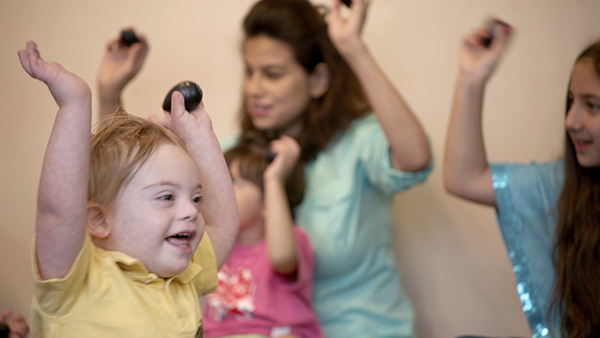 If you are interested in visiting a free mixed-age demo Music Together class, here are a few suggestions to make your experience as positive as possible:
Be sure your child is well rested and not hungry. It's hard to be musical on an empty stomach!

Arrive a few minutes early to allow your child to get accustomed to the classroom.

Show enthusiasm about being in music class! If you think Music Together is fun, so you will your child.

Allow your child to experience the class in their own way—this is a great opportunity to observe your child experiencing music!

If your child is learning about gentle touch, stay close by and, when needed, gently redirect them back to making music with you.

Feel free to speak with your Music Together teacher or center director if you have questions or concerns.
To attend a free Mixed-age Class demo Music Together class, contact your local Music Together center.
Supportive Family Classes
If you're looking for a special needs music class in a smaller group setting, some Music Together centers offer a Supportive Family Class, which includes all of the elements of a Music Together class—songs, chants, movement activities, and instrument play—but with fewer children and more individualized attention. Music Together teachers who lead Supportive Family Classes have specialized skills and training in order to make the classes work for all children, including siblings. Contact the location nearest you to ask whether they offer music classes specifically for children with special needs.