The Beat Goes On!
Music Together Generations
On a sunny Tuesday afternoon at the Las Villas de Carlsbad retirement and assisted living center in Carlsbad, California, a large group of senior residents, children, and parents jam and sing to a rousing rendition of "When the Saints Go Marching In" as part of their weekly Music Together class.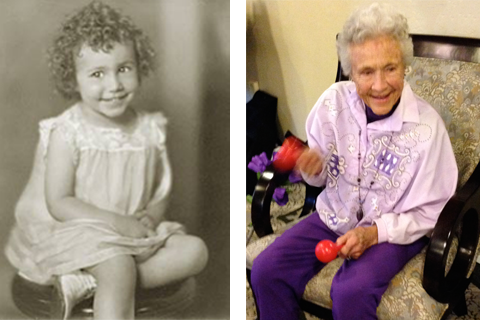 Photos courtesy of Lola Larson
Lola in 1929 and today
Resident Lola Larson is particularly animated. Drum in hand, she stands and marches with a broad smile on her face. "This music program is the greatest," she says. "It helps the children feel the beat in their souls!" Lola, age 89, knows a thing or two about the beat: as a child in the 1920s, she danced and sang in The Little Rascals films, which were directed by her uncle, well-known producer and director Hal Roach. For Lola and many other elders, the Music Together class is an opportunity to be introduced—or reintroduced—to the joy of community music-making.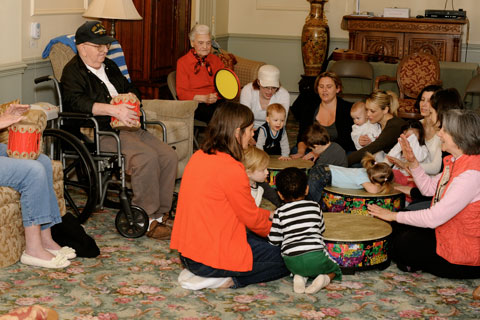 Photo by Karin Bruno
Music Together Generations classes, like Lola's, are held at many locations around the country. Every day, in retirement homes, assisted living facilities, and adult day services centers, people of all ages come together to sing, dance, shake eggs, and swing scarves. With grandparents and great-grandparents making music alongside babies, toddlers, and preschoolers, the classes take on an even deeper meaning. "One of the things that stands out for me is the pleasure that parents get from watching their children form relationships with elders," explains Devi Borton, Outreach Mentor at Music Together LLC. "So many of us are scattered from our families of origin, and we're not in contact with our elders. Parents find this interaction deeply meaningful, and it's also meaningful for the teachers to witness and facilitate those connections."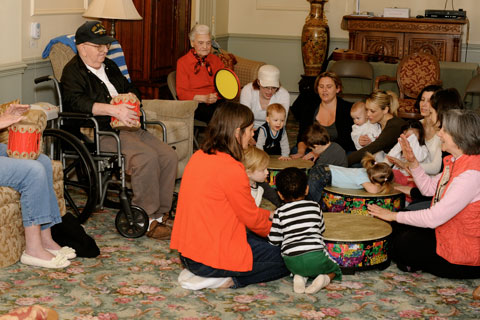 Photo by Karin Bruno
Sarah Schneider and her two children, Will and Emma, have been attending classes at Ivy Lodge Assisted Living in Saugerties, New York, since 2010. "The class has enriched my children, not only musically, but also socially, as a result of interactions with the residents living there," says Sarah. "It has invaluably raised their awareness of our elder community and given them knowledge of the fragility, as well as the strength, exhibited by these wonderful individuals."
For many senior participants, "music with the babies" is the highlight of the week. And, just as music-learning supports children's development, it also greatly enhances the well-being of seniors. Whether they are ambulatory or in wheelchairs, elders in class are encouraged to play instruments, dance, wiggle, and (of course!) sing—activities that stimulate them socially, physically, cognitively, and emotionally.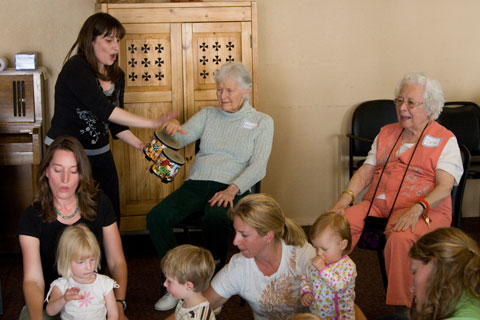 Music Together's song collections include traditional tunes familiar to many seniors, which is enjoyable for everyone. Singing familiar songs is also incredibly beneficial for elders with any type of memory loss. Neuroscience researchers and music therapists have long studied the role that music plays in the health and aging experiences of seniors suffering from memory and thought-processing issues, particularly associated with Alzheimer's disease or dementia. A 2009 study found that the section of the prefrontal cortex housing long term memories and emotional connections to memories showed heightened activity when subjects listened to familiar music. Given that this section of the prefrontal cortex is one of the last areas to deteriorate in people suffering from Alzheimer's disease, these findings offer a possible explanation for why some Alzheimer's and dementia patients exhibit an overall "awakening"—and even memory recall—when they listen to music with which they may have had a connection or association in the past.
During Music Together time, it's not unusual for this "awakening" to be observed by the teachers, parents, and facility activity directors. "There are several ladies who are quite withdrawn; but while they're in class, their faces light up!" comments Bridgit Jacobsen, who teaches an intergenerational class at Providence Elderplace, Irvington Village, in Portland, Oregon. "It's really quite remarkable to see how the music elevates their mood and increases their overall level of cognitive engagement."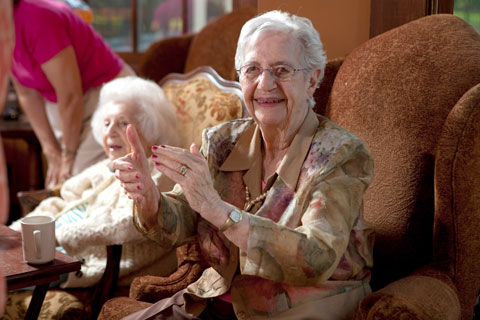 Photo by Dave Burbank
Music classes bring many residents back to a time when music was an integral part of their lives. Many elders love to tell stories of time spent playing in big bands, meeting up with friends at the local dance hall, or singing in a church choir. Sharing those memories with the parents and children delights the residents. And, as Music Together director Sylvia Bloom of Eenie Meenie Music Together in Saratoga, New York, explains, that sense of delight is reciprocal. "Through my classes at The Wesley Community, I've realized that the parents and I get as much out of the class as the seniors and the children do. We ALL finish the class with joyful hearts, which is a great gift."
As the class at Las Villas de Carlsbad winds down, Lola and other residents linger with the parents and children, talking and laughing as if they've known one another for years. Healthy Lifestyles Director Jillyan Leighton watches this camaraderie and smiles. "The Music Together class has been a huge hit," she says. "Residents who don't often come to group activities come to this one. The combination of music and movement is so beneficial to them. They are socially interacting with their peers and the children, and the movement is so great for them physically as well. It's a wonderful program, and the residents enjoy it just as much as the beautiful children do!"
---
—Kate Battenfeld is a Music Together Contributing Writer and Center Director of Joyful Jumping Music Together in Carlsbad, Oceanside, and Vista CA.