All Ages—and Stages
Families of children with special needs often say Music Together classes fill their desire for a welcoming, community-based experience the whole family can enjoy. In all of our family and in-school classes, music is learned through developmentally appropriate activities that support and respect everyone's learning style. In this mixed-stage environment, everyone is encouraged to participate and respond in their own unique way, so children with special needs fit right in.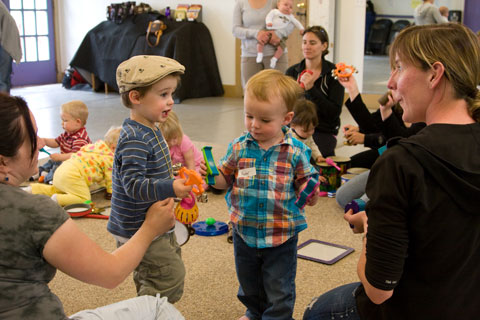 Families preferring a smaller, more intimate classroom environment can sometimes find a Supportive Family Class, which offers all the same experiences—songs, chants, movement, instrument play, and dancing—but with fewer children and more attention to creating access to music-making. These classes extend the Music Together philosophy of accepting and including all levels of participation, regardless of ability or disability. In a Supportive Family Class, your Music Together teacher will have specialized skills and training in order to make the class experience accessible to all children, including siblings. Some schools also offer classes for children with special needs that integrate the Music Together curriculum.
If you have any questions, please reach out to us at therapy@musictogether.com.
To read more about available class types, please click on your child's age below.