Big Kids Classes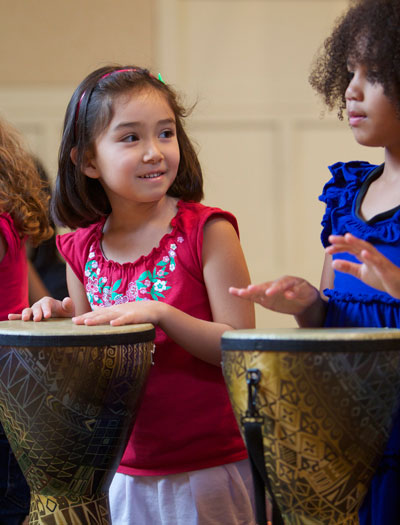 Big Kids. They have minds of their own and they know what they like. They are ready to take ownership and lead musical activities with their peers. They want to dig deeper and understand how music works. That's what these classes are all about.
Music Together Big Kids® is a 60-minute class geared to the interests and abilities of 5-, 6-, and 7-year-olds. The program blends the elements of Music Together that parents and children love with new activities, skills, and challenges that are developmentally appropriate for this age group. These classes lay the foundation for Basic Music Literacy, complementing in-school music instruction or instrument lessons and leading to a lifetime of joyful music-making. The curriculum includes solfège, solos and ensembles, folk dances, harmony singing, vocal development, and drumming. In a safe and fun environment, your child can experiment with new activities like game songs, story songs, conducting, improvisation, and composition.
Like the idea of joining in on the fun? As a parent, your attendance is welcome but not mandatory. You'll receive our Big Kids songbook, CD, solfège cards, and HomePlay activities, so that your entire family can continue the fun and learning at home—and you can stay connected to what your child is learning in class.
Testimonials
"The Big Kids class offered a natural extension of my daughter's Music Together experience. The longer class time offered more opportunities to delve into more complex rhythmic and tonal patterns as well as chances for children to lead songs and to solo if they chose to do so. My daughter's confidence grew as a musician and also parlayed into an increased willingness to raise her hand and stand out in school. Now a first-grader in public school, her teachers have commented on her exceptional music ability. Here at home, we notice that [she] would just as soon play an old Music Together CD and dance around as turn on the TV, an unexpected side benefit of years of Music Together for which we are really grateful."
—R. Douvos, Music Together parent
"Even though the program differs from the mixed-age class, there's still the same feeling of joy in making music and an opportunity to form friendships among children and their parents. My daughter can't wait to go to class each week to see her new friends and make music with them!"
—Amy, Princeton NJ