Our Commitment to Professional Development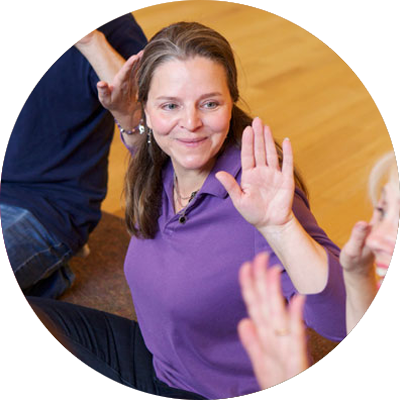 When you teach Music Together®, you're a part of a teaching/learning community that truly supports you in sharing joyful music experiences with children and families. And it all starts with the teacher training. Workshop attendees can also earn professional development and/or graduate credits.
Music Together teachers keep learning after the Teacher Training Workshop ends. As an active teacher, you'll have many opportunities for professional development, such as access to live workshops, online learning modules and social forums, study guides, videos, and an advanced certification training program. We provide you with every resource you'll need to teach fun and engaging classes, stay on top of advances in early childhood education, and keep expanding and honing your skills.
Continuing Education and Course Credits
Continuing Education for Music Therapists
Music Together Three-day Teacher Training – 30 CMTEs
Understand developmentally appropriate practice in music.
Learn how to assess children's music development and communicate this information to parents and caregivers. 
Learn how to design lesson plans with artistic energy flow. 
Learn new repertoire including songs, chants, instrument and prop activities, and movement activities, and learn how to lead them.
Music Together's Teacher Training Workshop is approved by the Certification Board for Music Therapists (CBMT) for 30 Continuing Music Therapy Education credits (CMTEs). Music Together LLC, provider number P-090, maintains responsibility for program quality and adherence to CBMT policies and criteria.
Music Together Three Day Teacher Training satisfies CBMT domains I.B.1.2.4; II.A.2.4.5.
Continuing Education Units (CEUs)
CEUs, issued through Music Together, are available at a nominal fee, one unit awarded for every 10 hours of participation—2.5 units for attending the complete workshop.
CEU Application
You can earn two graduate credits through Webster University, St. Louis MO.
Learn More