A Research-based Music Enrichment Resource Designed for the Classroom Teacher
Music has always been a transformative learning tool that builds connections between students, teachers, and parents. With Play Along, the music enrichment resource created especially for classroom teachers, educators will be empowered to make music part of everyday learning, harnessing its power to support students like nothing else can.
If you are looking to provide classroom teachers with an easy and fun way to enrich their work with children, and you're searching for an innovative way to support your family engagement efforts, Play Along has the flexibility to suit your needs and can be delivered in both in-person classes and distance learning situations. And, no additional training or music specialist is required.
Contact one of our representatives to discuss your situation and get a personalized recommendation. Bring in the fun and learning that comes with Music Together!
Play Along Aligns with Many Early Childhood Approaches
Participating in music activities engages children's natural learning cycle of play, discovery, repetition, and mastery. Play Along by Music Together fosters children's growth in many areas essential to success in school and life and is aligned with the following:
Materials, Resources, and Support
The research-based Play Along by Music Together music enrichment resource includes high-quality materials for every classroom teacher, child, and family to use at home, and has been designed to be easily implemented in the classroom. With our comprehensive printed and online tools, teachers and families are guided on using the music and movement activities to support children's early learning outcomes both in school and at home—all while having fun.
Play Along includes: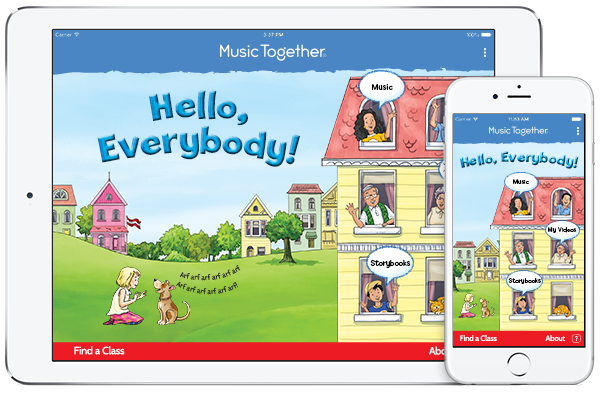 We have two collections with 25 songs each, representing a wide variety of tonalities, meters, musical styles, and cultures. Listen to a few samples below, and download the Hello Everybody app from the App Store or Google Play! for more.
Teaching and implementation support
Support and guidance on:
How to use Play Along in the classroom
The benefits of music to children's growth and development
How to use the songs and activities to support child outcomes
How to use the songs and activities to support transitions and classroom management
How the program can support family engagement efforts
Access to our Online Resource Center, featuring:
"how-to" teaching videos
song sample footage
3-song lesson plans for circle time
Support for distance learning
Spanish translations
family engagement resources
adaptations for children with special needs, and other resources
Home component for family engagement
Play Along is a powerful tool in helping schools achieve and maintain high levels of family involvement. The resources are specifically designed to involve parents and create a strong home-school connection. Play Along can help you support positive family practices and equip families with tools to enhance and extend learning at home.
Each family receives the music recordings for the current collection and our free Hello Everybody app so they can access their music anytime, anywhere
Each family receives an activity-filled songbook
Family engagement videos for schools to help educate parents about how music supports their child's development
Additional home communication, educational content, and activity suggestions for schools to send home to families
Read More About How Play Along Supports Family Engagement
Materials for students, teachers, and classrooms
CD/mp3 downloads of music for the classroom/teachers
Comprehensive teaching guide for classroom teachers with:
Song activity pages
Lesson plans
Guidance on using the music and movement activities to enhance the school's early learning curriculum and to support child outcomes
Guidance on using the music and movement activities to enhance daily classroom life, from transitions to classroom management
Classroom activity pages to use with the children to support early learning
Egg shakers, scarves, and rhythm sticks for the whole class
Our award-winning Singalong Storybooks