Benefits of Music Together® In School
The primary goal of Music Together is to support children's music development. However, our play-based, developmentally appropriate approach also fosters children's growth in other areas essential to success in both school and life, raising the quality of a child's early education both in class and at home. In other words, Music Learning Supports All Learning®.
The Music Together curriculum supports children's language development and emergent literacy, social and emotional development, cognition and general knowledge, physical and motor development, and approaches to learning. Read the results of one study here.
Benefits for Classroom Teachers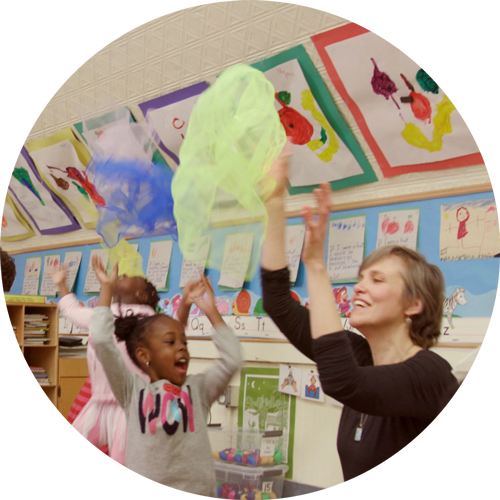 Personalized mentoring from the Music Together specialist, active participation in music classes, and online support tools from Music Together Worldwide help classroom teachers elevate their overall teaching skills. As they learn to use music in their work every day, they'll gain a new arena for observation, evaluation, and appreciation of children's development in many different areas.
Benefits for classroom teachers also include opportunities for continuing education and professional development.
Music Together specialists are also supported by a board-certified music therapist at Music Together Worldwide who can assist in making the Music Together class accessible to all of your students, including learners with special needs or challenging behaviors.
Benefits for Schools
Our carefully developed blend of curriculum and support is the most comprehensive in the field of early childhood music education. With Music Together schools:
Help students learn music in developmentally appropriate ways
Support children's language, cognitive, social, emotional, and physical development
Enhance the classroom experience for both teachers and children
Provide professional development opportunities for classroom teachers that they find inspiring and enjoyable
Support family engagement by giving parents enjoyable and meaningful ways to interact musically with their children
A Prestigious Affiliation
Parents the world over recognize the Music Together name. When they see that a school offers our program, they know it represents a commitment to high-quality early childhood education.
Heightened Visibility for Schools
Participating schools are listed in our Class Locator, so parents can easily find schools that offer the Music Together curriculum in their areas.
Alignments
Schools find Music Together to be an excellent fit because our developmentally appropriate music curriculum aligns with many approaches to early childhood education. These include:
The Montessori philosophy
Reggio Emilia principles
The HighScope preschool curriculum
The Creative Curriculum for Preschool
Our curriculum also aligns with the following standards:
National Association for the Education of Young Children (NAEYC) early childhood program standards
National Association for Music Education (NAfME) program standards
Individual state early learning standards
Music Together also lends itself to the variety of assessment tools commonly used to measure children's learning and development during their early years.