Support at All Levels
Whether you're a Music Together In School licensee, in-school teaching specialist, or school, we offer you a wide range of support.
For each song collection, participating classrooms receive the same family songbooks and recordings that go home with each child, plus SongCards and various other support materials. The in-school teaching specialists also receive their own set of materials and ongoing support.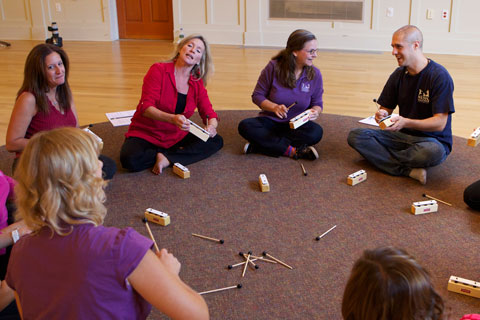 As a leader in the field of early childhood music and movement, we provide comprehensive training and continuing education opportunities for all our teachers and licensees. In addition to one-on-one teaching and business mentoring from our professional staff, specialists also have access to active online communities for program providers and teachers. Every semester, specialists are able to attend live workshops to learn the songs from the current collection and deepen their teaching skills. We've also developed tools for specialists to deliver in-service workshops to classroom teachers.
Online, Music Together In School licensees can find extensive support and can conduct business with us from anywhere. A members-only area of our website contains valuable tools and information to help specialists support both the classroom and home experiences.
Participating schools are listed in the Class Locator on our national site, where parents from around the world go to look for Music Together classes and schools in their areas. Schools also get a Music Together In School logo and descriptive text to place on their website—a beacon to families who know Music Together and a public symbol of their school's commitment to high-quality early childhood education.
For full information on our curriculum and support, please contact us at (800) 728-2692 x353 or in-school@musictogether.com.