Supporting Your Practice Every Day
The Music Together Within Therapy program has already been successfully implemented in client homes, as well as at children's hospitals, schools for children with disabilities, speech therapy clinics, music therapy practices, and community-based Music Together centers. As a Music Together Within Therapy provider, you can offer our program's songs, materials, and services anywhere you're currently offering therapy.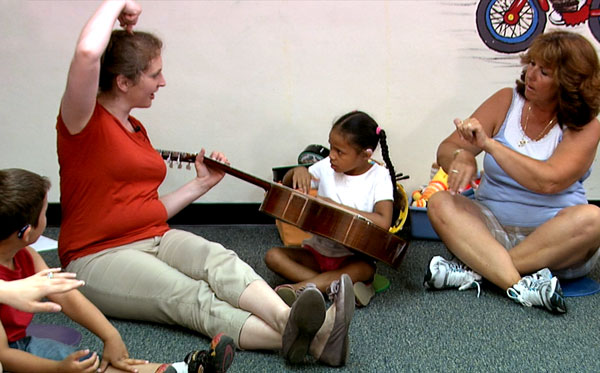 Clinician Materials and Support
As a licensee, you pay a service fee for each client participating in Music Together Within Therapy, as well as an annual fee to maintain the trademark license. In return, we provide support services and give you permission to use our trademark, logos, artwork, and copyrighted material in approved ways. These fees cover:
Music Together logos, graphics, photos, sound clips, and videos • A materials set for each licensed clinician, which contains a family songbook, a teacher activity songbook, a teacher CD, and a supplemental guide for clinicians
Access to slowed-down recordings, single graphics for clinical use, communication board templates, Music Together HomePlay pages, and other supplemental materials
An online network of Music Together Within Therapy providers where you can ask questions, share resources and ideas, and report on challenges and triumphs
Mentoring by an on-staff, board-certified music therapist who can help with curriculum questions, teaching techniques, parent education, clinical interventions, and session management
Support services, such as client referrals from our toll-free number and tips on effectively using our graphics in advertising within your practice
Family Materials
Your clients will receive an illustrated family songbook and copies of the recording. We know that a child's loved ones are important in facilitating both music and therapeutic growth; therefore, we require each participating client to have a set of family materials for home use. The first set is included with your annual license, and each additional set is included with the service fee for each new client.
Continuing Education
As a Music Together Within Therapy provider, you have access to a wealth of development opportunities. Our courses are approved by the Certification Board for Music Therapists to provide Continuing Music Therapy Education credits. Credits awarded by CBMT are also accepted by the National Board of Certified Counselors. A series of continuing education courses has been developed exclusively for Music Together Within Therapy trademark license holders.
You can also take part in Music Together's comprehensive teacher education program to earn credits.
Live regional workshops allow you to check out the current collection's songs and discover how you can apply the latest research in early childhood music education to your own work. When you participate in these learning opportunities, you join the teaching-learning community of an organization that stays on the cutting edge of early childhood music.
Ready to take the next step? Find a teacher training workshop near you!