Support Every Step of the Way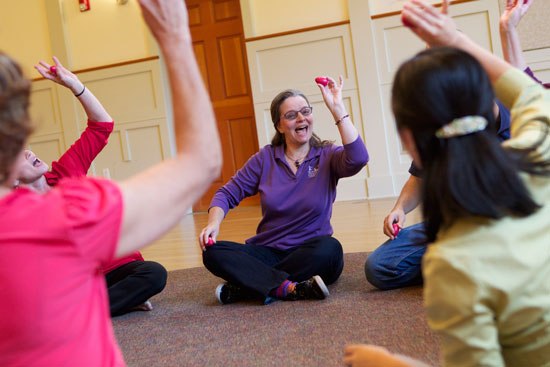 Through trainings, workshops, and online forums, our center directors form a stimulating and creative community of vibrant educators, all of whom are committed to sharing the joy of music with families around the world. Accessing the teaching, directing, and professional experience of colleagues is not only an important source of support for directors—it's also inspiring, motivating, and fun!
As a licensed center director, you pay reasonable service fees each semester based on the number of families you're serving. In order to protect the Music Together name and program, you must also agree to meet certain standards for teaching quality, class size, length, and frequency, as well as the use of Music Together trademarks, logos, and graphics. In return, you receive our permission to use Music Together's trademarked program, along with many materials and support services designed to give you the tools, skills, and knowledge you need to run a successful center.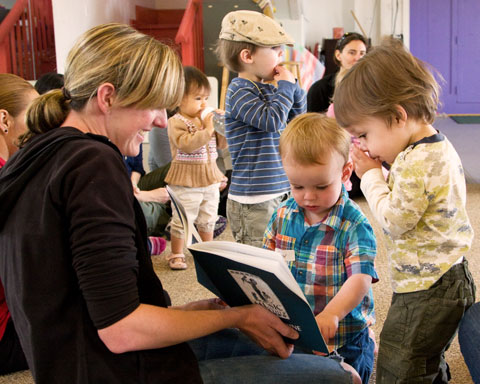 Family and Teacher Materials
Our award-winning curriculum materials for families and teachers are included in the semester service fee. That means you'll never have to purchase educational materials separately, though we do offer supplemental products at reasonable prices.
Family materials. Each semester, enrolled families receive recordings of the semester song collection with an illustrated songbook. New families also receive high-quality parent education materials, including a DVD/booklet introducing Music Together, and a Growth Chart describing children's music development and giving them an idea about their child's new musical journey.
Teacher materials. Each semester, registered teachers receive a teacher-edition recording with extended versions of selected songs, a teacher-edition songbook with suggestions for how to use each song in class, a family songbook, and access to a Music Together website just for teachers, full of video classroom footage, podcasts, and more teaching support tools. Teachers are also supported by membership in a vibrant teaching community with multiple opportunities for professional development offered throughout the year.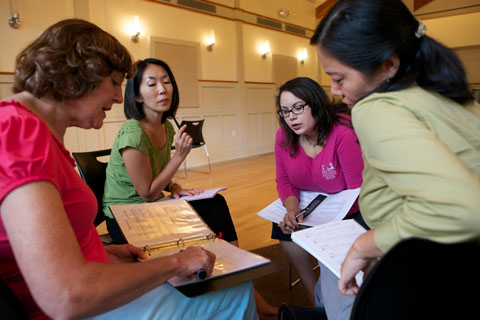 Director Resources and Mentoring Services
As a center director, you can take advantage of numerous resources, both online and in person, to help you effectively establish, market, and run a successful center.
Have questions? Please contact us and we'll be happy to give you more information about our support services and materials.
We set you up right. You'll receive all the information you'll need to help you get started with Music Together, including how to obtain insurance, rent space, set policies, schedule classes, plan demo classes, and market your classes.
Individual On-staff Mentor
You're not alone. Mentoring from an assigned staff member will help you create a plan, formulate a vision for the future, and assess what steps it will take to achieve that vision. Your mentor can point you toward all the resources you will need and provide support on topics such as teaching the curriculum, classroom management, parent education, and parent communications.
Stay in the know with our directors' website, which contains a wealth of information on operating and growing a center, including podcasts, webinars, and many other tools to guide you through all aspects of running your business.
Social Network for Directors
Connect with licensees from all over the world on our members-only forum, where you can ask for advice and share insights and ideas.
A toll-free support line is manned by a staff member during business hours. We're just a phone call away!
Graphics, Logos, and Photographs
The beautiful, award-winning Music Together logos and graphics are available for you to use in publicity. You also get access to a number of professional photos and videos. Our staff members are always available with advice on using these graphics to create effective and beautiful marketing materials.
Packed with fun and educational content, we send our family newsletter electronically to Music Together parents every quarter.
We give enrolled families lots of ways to stay engaged, including a special site where they can download music, connect with the worldwide Music Together community, and find fun song activities, inspiring videos, informative articles, helpful tips, and more.
We keep the conversation going. Music Together maintains active accounts on many social media sites popular with young parents, including Facebook and YouTube. We regularly share interesting content, videos, music trivia, and host contests and promotions for families, and parents to connect with us and each other.
Let's grow together. The national website and our toll-free number provide national and international referral services for families seeking Music Together classes and for teachers looking for positions. These tools support you in building enrollment and staffing a growing business.
Technology and Online Services
We make it easy to operate a music education business. Our customized database software, EasyCenter®, enables you to keep track of family information, payments, and enrollment history; handle registration; create class lists; and send registration confirmations. We also have relationships with several technological partners, who provide email marketing templates and branded, customizable websites complete with make-up scheduling and online registration.
Annual Conference for Licensees
You can join together with colleagues to network and advance your skills at Music Together's annual conference. Inspiring workshops are led by program coauthors Ken and Lili, professional Music Together staff, and experienced center directors. From center management, marketing, and using current research, to hiring and nurturing teachers, you'll learn everything you need to know about running a successful music education business.