NAEYC 2016 Annual Conference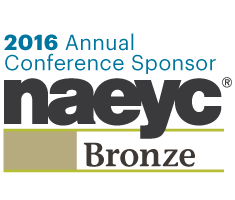 Music Together has long been a supporter of the National Association for the Education of Young Children. We are proud to once again be a Bronze Sponsor of the 2016 NAEYC Annual Conference and Expo being held in Los Angeles, CA, November 2-5, 2016. This conference is the year's largest gathering of early childhood professionals in the world.
If you will be attending this year, we hope you will come to one of our sessions and stop by our booth, #2240. There, you can talk to our representatives about the innovative Music Together music curriculum for early learning settings, listen to our music, learn about our comprehensive teacher training, grab a reusable tote bag and free song sampler CD, and make some music with us!
Attend One of Our Four Conference Sessions
We are honored to present four sessions at this year's conference! Read the session descriptions below. If you have questions about which session would be best for you to attend, please contact the Music Together In-School Services Department: in-school@musictogether.com. 
Music and Early Learning Standards: Supporting Young Children's Development and Early Learning through Enjoyable Music and Movement Activities
Wednesday, November 2, 8:30–11:30 AM, Room #503
In this interactive session, you will be introduced to the ways in which you can use enjoyable and developmentally appropriate music and movement activities to holistically and naturally support the development of the whole child, while also achieving your classroom goals and reaching early learning standards benchmarks. Join us as we break down the connections between musicmaking and early learning domains, present recent research in the field, introduce you to new songs and teaching techniques, demonstrate how to adapt your own favorite children's songs to achieve the greatest developmental benefits for your children, and share ideas for how to integrate music into your daily work to enhance your current curriculum in fun and engaging ways. We'll also give you tips on how to encourage music-making at home to extend the learning that takes place in the classroom.
Track: Music
Presented by: Lili M. Levinowitz, Ph.D., Professor of Music, Rowan University/Director of Research, Music Together Worldwide; Lauren Guilmartin, MA, Director of Early Learning, Music Together Worldwide
¡Canciones Que Puedes Usar en la Clase el Lunes Por La Manana!
Thursday, November 3, 10:00–11:30 AM, Room #409B
Come sing and dance your way toward expanding your repertoire of music and movement activities for young children. Join a highly trained music educator and Music Together recording artist "Uncle Gerry," beloved by Music Together families all over the world, as they lead songs from the multi-award-winning Music Together Family Favorites® song collections. You'll experience great songs that bring developmental benefits to children, learn developmentally appropriate song-leading techniques, be introduced to the many ways you can use music in the classroom, and learn about the vital role adults (teachers and parents!) play in children's music development and engagement.
Track: Grandes Comienzos - Spanish
Presented by: Gerry Dignan, Music Specialist, recording artist and performer, Music Together Worldwide; Ana Trevino-Godfrey, DMA, Early Childhood Music Specialist, Music Together Worldwide
Stimulate the Brain with Music! Supporting Infant and Toddler Brain Development through Fun, Engaging, and Developmentally Appropriate Music Activities
Thursday, November 3, 3:00–4:30 PM, JW Marriott, Diamond Ballroom #10
Join us as we discuss the ways in which music participation in early childhood naturally supports and enhances children's brain development. In this interactive workshop, you'll not only learn new songs and music activities that support brain development in the infant and toddler years, you'll also learn key concepts and terms and hear about recent research in the field. We will practice specific techniques you can use when interacting musically with infants and toddlers and show you how to integrate music and movement activities into your work to best support brain development in these earliest years. You will leave this session with a deeper understanding of how developmentally appropriate music experiences in early childhood can be an enjoyable and easy way for educators to support the development of important structural changes, neurological processes, and cognitive skills during this very active period of brain development.
Track: Cognitive Development
Presented by: Lauren Guilmartin, MA, Director of Early Learning, Music Together Worldwide; Ellen Acuna, Early Childhood Music Specialist and Teaching Mentor, Music Together Worldwide
Family Engagement through Music: Building Stronger Home-School Connections with Music
Friday, November 4, 1:00–2:30 PM, Room #510
Come to this interactive session and discover the ways in which participatory and enjoyable adult-child music activities can engage parents in their child's learning, enhance the home learning environment, promote family engagement in school, and support a strong child-teacher-family connection. Through presenter-led participatory music and movement activities that are accessible to teachers, caregivers, and parents, regardless of their music ability, you'll be introduced to the ways in which developmentally appropriate music and movement activities can enrich and bridge the classroom and home settings. You'll be given concrete ways to create opportunities for family musicmaking events in the school and explore how recordings and songbook materials can be used to provide rich, cognitively stimulating and literacy-related activities in the home.
Track: Family Engagement and Support
Presented by: Ana Trevino-Godfrey, Early Childhood Music Specialist, Music Together Worldwide; Lauren Guilmartin, MA, Director of Early Learning, Music Together Worldwide