Award-winning Curriculum Materials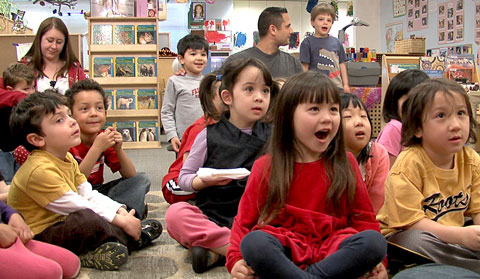 Our Music
Music Together's award-winning music is loved by children and grownups alike. The music is pitched in just the right range for children's early voices and includes a mix of original songs and traditional tunes from a variety of genres and styles, including the folk, blues, rock, jazz, classical, and world-music traditions. Because children need a rich music experience to stimulate and support their growing music skills, every collection includes songs, rhythmic chants, tonal and rhythm patterns, and instrumental play-alongs in a wide variety of tonalities and meters. Click here to listen to some of our music.
Our Songbooks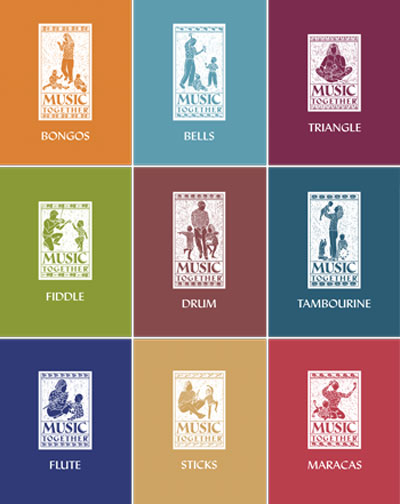 Each of our nine song collections has accompanying songbooks with fully notated songs and woodcut illustrations. The music specialists initiate the use of the songbooks in class, which enhances the experience of music-learning, provides a tool for pre-literacy activities, and supports creative storytelling. Once the children have had ample time to become familiar with the songbooks in the classroom, the books are sent home to enhance the home-learning environment and further support family music-making. Classroom teachers also receive a teacher-edition songbook filled with ideas to support bringing music into the classroom. We are proud that our Family Favorites Songbook for Teachers was honored with the prestigious Association of Educational Publishers Distinguished Achievement Award (2010).
Other Materials
In addition to the song collection CDs, songbooks, and parent-education materials, Music Together also provides innovative "SongCards" for each classroom. These song cards provide opportunities for independent music-making and are just the right size for small hands. Plus, we provide an array of support services for classroom teachers and music specialists.