Core Components of the Music Together Curriculum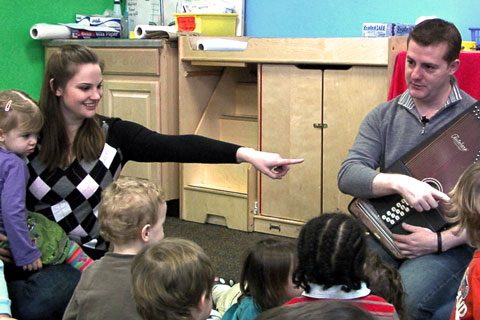 With Music Together, children learn to sing in tune and move in time through playful, developmentally appropriate activities. A Music Together specialist not only leads a weekly music class but also mentors classroom teachers. Skilled in leading participatory music activity, the specialist helps classroom teachers develop ways to integrate Music Together songs into the broader curriculum.
A Trained Music Together Specialist
Our curriculum is taught by a registered Music Together specialist who prepares and leads a weekly class with an artfully conceived flow of songs, rhythmic chants, fingerplays, movement activities, and instrumental jams. Experienced specialists may be available in your community, or we can help you identify a teacher, administrator, or paraprofessional from your own staff. The candidate must pass the Music Together teacher training, where he or she will learn our innovative, research-based approach to music education.
We can help you identify the perfect teacher for your school. Call the Music Together In-School Services Department at (800) 728-2692 x353.
Professional Development for Classroom Teachers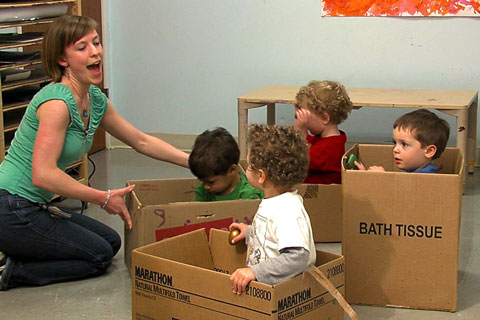 Adult modeling and involvement is integral to young children's development. Because children have a strong drive to imitate the behaviors of the grownups in their lives, the participation of classroom teachers in music activities is essential, whether or not they consider themselves "musical." The Music Together curriculum is designed to enable classroom teachers to facilitate music activities throughout the week, increasing opportunities for music-learning and also using music to support other educational objectives.
The specialist works closely with and mentors the classroom teachers on how to use Music Together songs, activities, and materials to support their educational goals and enhance daily routines. Specialists may also lead classroom teacher in-services, which are eligible for CEUs.
Schools adopting the full Music Together curriculum receive an array of materials and support services to aid in their implementation of the program, including:
Recordings and songbooks for children and teachers
SongCards for children's and teachers' use in the classroom
A specialist DVD and training guide
An online network for information and support
A specialist resource website
One-on-one and conference-call mentoring with Music Together staff
An on-staff, board-certified music therapist and special-needs consultant
Also available, though not included, are other valuable tools, such as:
Workshops in skill development and song-leading each semester
A series of classroom teacher in-service DVDs with guides
Teaching DVDs for each song collection
Superior Materials for School and Home
Of course, the centerpiece of our curriculum for schools is the quality of our music, songbooks, and activity suggestions for both teachers and parents, infusing each child's day with a musically rich environment in which their important adults participate. Read on to learn about our award-winning materials.