Benefits for Children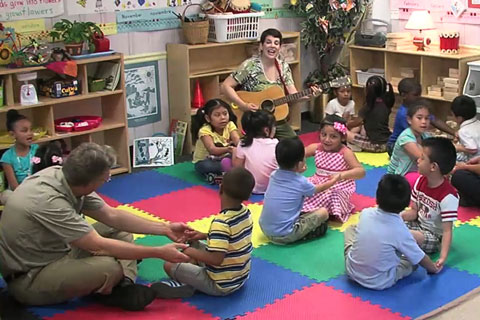 When music is part of daily classroom life, children benefit in a number of ways. Music develops the child's mind, body, and spirit simultaneously. Participating in music activities engages the natural learning cycle of play, discovery, repetition, and mastery. Our approach also fosters children's growth and development in many areas essential to success in school and life, raising the overall quality of children's early learning experience both in class and at home.
Music Learning Supports All Learning®
At Music Together, our primary goal is to support children's music development so they can achieve tonal and rhythmic competence. Yet the rich, play-based, and developmentally appropriate environment we create also fosters children's growth in other domains essential to school and life success. Music Learning Supports All Learning® (PDF), and our curriculum and program model support: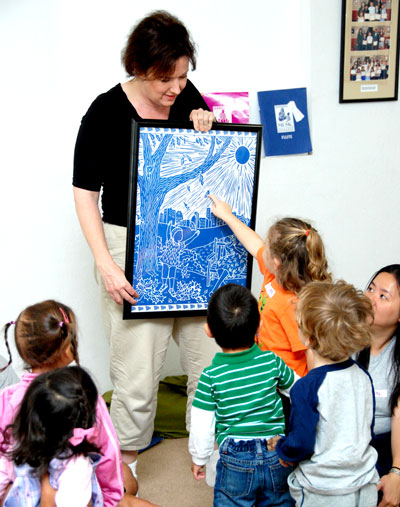 Music Learning and Development
Language Development and Emergent Literacy
Social and Emotional Development
Cognition and General Knowledge
Physical and Motor Development
Approaches to Learning
A report titled "Research Findings on the Music Together® Preschool Program Model" by Music Together coauthor and Director of Research Dr. Lili M. Levinowitz discusses the results of a Bridgeport, CT, study measuring the impact of Music Together on children's learning across several developmental domains, and we make it available here (PDF).
Testimonials
"The children enjoy the large variety of songs and the chance to explore the different beats and rhythms with their bodies. I enjoy seeing their enthusiasm and also seeing the impact on the children's learning. After only a short period of time I was able to observe improvements in the children's ability to learn poems, chants, and songs. Music makes it so easy. I recently observed my group doing gross-motor movements and was amazed to see that most were easily skipping! Finding the beat helps with coordination on many levels."
—Lois Olson, Montessori Children's House Inc., Laramie, WY
"Music Together provides a real approach to learning through a highly interactive and often hands-on approach, which is both fun and stimulating for our children ages six months through six years. The technique easily engages the children and assists in the building not only of music skills, but also of math and language skills as well. Thank you for your wonderful program and all it provides to our children."
—Robyn L. Vanlandingham, Director of A Lakes Region Montessori, New Hampton, NH