Why do we celebrate
Sing With Your Child Month?
Music Together families all over the world know that it doesn't have to be a special occasion to sing and dance. So, why do we need Sing With Your Child Month? We think that families making music together is something to celebrate!
As parents, you want to do everything you can to help your children grow into loving, confident adults. When you sing and make music as a family, you gain a whole new way to communicate and form everlasting, joyful memories. Plus, actively making music nurtures your child's creativity, self-expression, and confidence and supports their social, emotional, cognitive, and physical development. The best news? It doesn't require special skills or "musical talent," just a love of music and a desire to have fun!
The impact of singing and making music with your child is immeasurable, and the rewards of this simple act will help us make the world a much better place. So, sing a song, grab a drum (or a plastic bowl and wooden spoon!) and join us in celebrating Sing With Your Child Month this March.
How Can You Celebrate this Month?
What songs make your family want to join in? Share them with us!
On Facebook, share 3 songs that are guaranteed to get your family up singing and dancing. Post as your status: "The 3 songs that always get my family to join in are . . . " Then tag 3 of your friends and challenge them to make their own lists! Don't forget to tag "Music Together LLC" and use the hashtag #SingMonth2016. 
Bring music into your storytime.
Check out this video on how you can bring music into your reading time.
Here are some more easy ideas you might try.
Substitute your Music Together songbook for your child's before-bed book one night this week.
 
Turn the CD off in the car and sing all the songs you can remember without it!
 
Ask your child's grandparents what their favorite lullabies were and ask them to teach you and sing it together.
 
Sing a song in a place you wouldn't normally sing (like at the grocery store).
Have a musical play date this month!
Music activities are perfect for play dates! This month, try one of the musical games developed by Music Together teachers. If you try any of them, share your photos and videos with us on social media using the hashtag #SingMonth2016.
Ideas for Musical Play Dates
Check out our Hello Everybody App!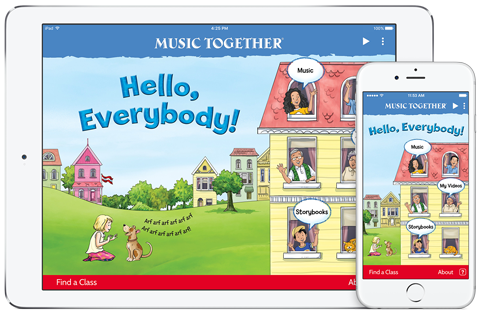 Hello Everybody for your iPhone, iPad, or iPod makes it fun and easy to enjoy Music Together with your family. Log in with your Family Music Zone account to get your Music Together music in the app. Stream the songs—or download them so your family can sing and play along even when you don't have Internet access. Plus, try some Music Together karaoke and have fun making and sharing your own family music videos!
Download the Hello Everybody app today! (Android version coming this spring.)