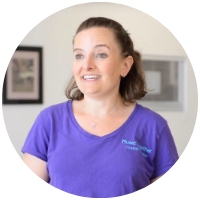 Music Together teacher Amanda Munice first learned about Music Together when she was a new mom, and she opened Manda's Music  Together in Ocean Township, NJ, in 2013. In honor of Sing With Your Child Month, we sat down with Amanda to get more ideas for how parents can play musically at home.
Read on for inspiration!
---
What's an easy way for parents to get started singing at home during Sing With Your Child Month?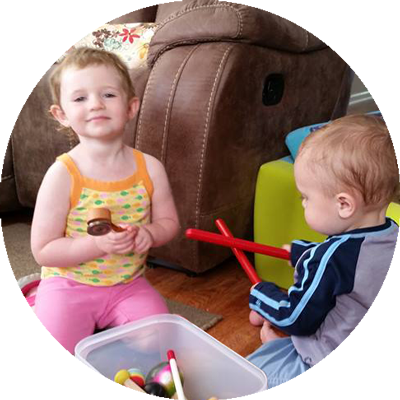 I love giving parents ideas for using music at home. First, as I remind the parents at my center, all children think their parents' singing voices are awesome—regardless of their own opinions of their musical abilities!
We are lucky to have beautiful, professional recordings of our songs, so I encourage parents to use them to support their own music-making. Try putting on the recording of one of your child's favorite Music Together songs. As it's coming to an end, fade the recording out and continue to sing. Keep the beat by clapping your hands, and encourage your child to clap and sing along as well. Add in a drum (or a plastic container with a wooden spoon) or an egg shaker and you've got your own jam session right in your very own living room!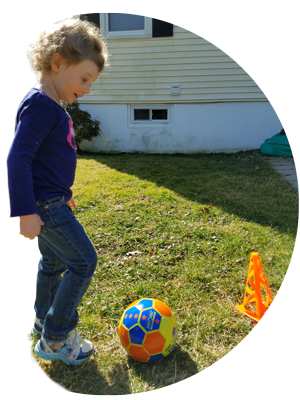 What are your favorite ways you use music with your own four-year-old daughter?  
As a parent myself, I am happy to share some of the things I do to make everyday events and "chores" more fun for my daughter. Here are a few examples from this winter's Sticks Song Collection:
"Stick Tune" is often used throughout our day. "Hey, hey, whadda ya say, let's all wash our hands today!" might be followed by "Let's all eat our lunch today!" and then "Let's all brush our teeth today!"
"Ridin' in the Car" also really lends itself to be used on a daily basis, and we often sing "Zoom, zoom, ridin' in the car, we're goin' to school today!"
This winter has been especially mild in NJ, so "Roll that Little Ball" has been sung outside (as seen in this picture!) a lot, with substitute words like "Kick that little ball 'round the yard, kick that little ball, KICK!"
Are there any ways to use lullabies other than singing them at bedtime?
I suggest to parents in my classes that they use lullabies (or any song sung quietly and soothingly on "la") throughout the day to help children self-regulate and transition to another activity after an exciting experience. This can be really helpful—and it's so easy to do!
What's your favorite thing about being a Music Together teacher?
I wake up excited every day because I know something that I will do during the day will make a positive difference in someone's life!  
LEARN MORE