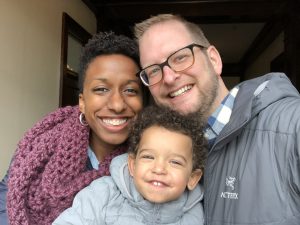 When Peter and Stephanie Rich were choosing a name for their son, they knew they wanted a name that connected to harmony, and peace, and music. They were both very familiar with the Tony Award–winning tap dance master/choreographer Savion Glover, and they liked having a connection to an artist that they admired.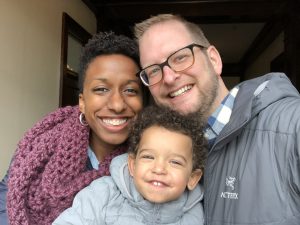 "After he was born and we saw our baby's spirit, it just really clicked," says Peter. "Savion: a name that speaks to a bringer of harmony, art, and peace."  Savion and his parents carry on a connection to those same values in their class at Music Together of Ithaca, New York. In fact, Savion has become so attached to the music that his parents make sure that Music Together songs are playing during every car ride they take.
"We once took a three-hour drive to see family, and Savion didn't do well—lots of crying," Stephanie recalls. "So on our next trip, we used the Music Together app for music, and he was fine! Now, every day and everywhere we go, we play Music Together songs. It makes such a difference."
Savion is particularly taken with the songs that Grandma Yvette sings, such as "John the Rabbit," "One Little Owl," and "All Around the Kitchen."  Peter and Stephanie noticed that he seemed to gravitate towards her bluesy, soulful voice, and often stopped crying when he heard her singing. This piqued Peter's curiosity, so he did a little research to find out more about Grandma Yvette, and discovered her bio on the Music Together website. Imagine his surprise when he discovered that she was the mother of Savion Glover! "We were so excited!" Peter exclaims. "We already loved Grandma Yvette through her music, and then to find out this funny, cool coincidence. . . it was really incredible."
Peter and Stephanie wish to thank Grandma Yvette for having such a positive influence in their lives, and for bringing little Savion so much joy through the music she sings with the Music Together band. "We appreciate her voice and her musicality; she brings love into the music, and that filters out into our home and into our Savion's life," says Stephanie. "It's so great singing along with her, and her influence has really spread out to our whole family. It's such a sweet story for our son and our early parenting years." It's pretty safe bet to assume that it's a sweet story for Grandma Yvette and her son, too.