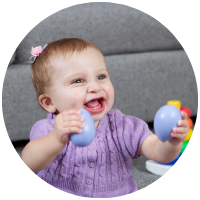 Music Together Worldwide is committed to supporting music-making experiences for families, young children, classes, and therapy rooms that are in line with social-distancing guidelines.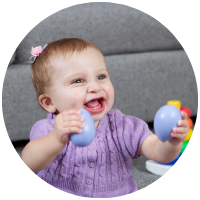 We want all of our families to stay safe while staying connected in socially responsible ways. Many Music Together centers are now offering Music Together Online. Join us!

We also know that parents of young children need support during this intense time. The following are some recommendations related to screen time, supporting young children's social-emotional development, and supporting parents, along with music activity ideas, tips, and resources that may help.
Screen Time
Research has found that screen time in early childhood does not have to be detrimental. It can even be beneficial when it is socially interactive, based on developmentally appropriate principles, has good content, is used in the proper context, and is about creating.
The National Association for the Education of Young Children has long had a position statement on interactive screen time. The American Academy of Pediatrics refers parents to Common Sense Media for some guidance on appropriate passive screen time options. PBS Kids has new content daily for preschoolers. In addition, the American Academy of Pediatrics suggests using screen time to prioritize social connection over passive consumption of content. In this time of social isolation, interacting with friends and loved ones is important. (Tip: Keeping to a predictable routine will help, too, so if your family is used to seeing your Music Together teacher at 10:15 each Monday, then continue to do that if it's a possibility. If your family regularly takes an afternoon walk, then head on out for some fresh air!)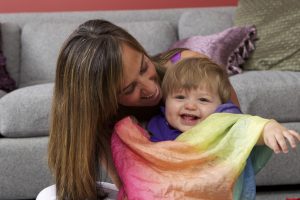 Supporting Young Children's Social-Emotional Development
Early childhood educators and parents alike are concerned about children's social-emotional development during this time of social distancing and school/early childhood activity closings. Guess what? Music can help! Check out this blog post on using music to support young children's social-emotional development.
Here are some more activity ideas:
Family Dance Parties are awesome! Even though children might not have the ability to have the rough-and-tumble play that their bodies need and crave, they can still dance wildly! When parents and children dance together, wacky and wonderful things happen, and children's physical development is supported.
Sing Silly Songs together. Take turns being leader and follower. Let family members choose the new words to songs you know. Old McDonald might trade the farm for a spaceship! E-i-e-i-o! Feel-good endorphins get released when we sing and dance, which promote a sense of connectedness and well-being.
Lullabies are more important than ever. Positive moments of calm and beauty are key to connecting with others. And remember, you can sing lullabies at any time during your day, including moments when your child (and you!) might need a "reset."
Parents may also be looking for ideas on how to support young children who may feel afraid or stressed. Remember, you are their best example for how to manage big feelings. You might want to try some of these mindfulness experiences with your children.
Music Together's free Hello Everybody app has eight songs that your family can enjoy together. Check out these easy activities for five of the Welcome Songs on the app. We hope they become part of your family's musical life.
Support for Parents
Parenting in the time of social isolation is understandably hard. Harvard University's Center on the Developing Child provides some helpful ideas for parents for building resilience and connection. The American Academy of Pediatrics published a webinar, Resilience in Stressful Times and Connecting During Times of Trauma.
And, just as making music as a family can be beneficial for children, it is also beneficial for adults. Research has found that listening to and making music can reduce stress and anxiety. And, making music as a family is even more fun!
We Invite You
If your family has participated in a Music Together class, please consider joining Music Together Online to either reconnect or to stay close with your musical community and to add music to your weekly family routine. If your child requires a more individualized approach to support their development, many Music Together Within Therapy providers are offering teletherapy services.
If you have not participated in a Music Together class, our online classes may be a great way for you and your family to play and learn together during this challenging time. Our online classes also provide for (socially distanced!) social connections. Music Together families are encouraged to invite their grandparents to join our weekly classes (no travel required!), you and other family members with young children who live in different states can attend the same weekly online class, and you can also remain connected with the families in your own community.