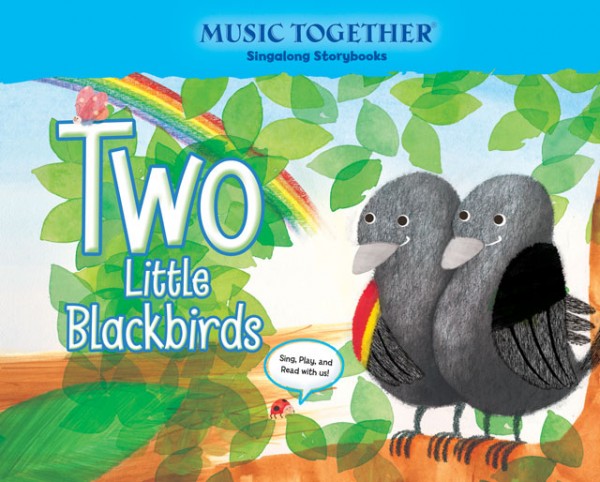 Two Little Blackbirds Singalong Storybook
Awards

Award-winning Storybook:
Parents' Choice Recommended Award
Academics' Choice Smart Book Award
Creative Child Magazine Preferred Choice Award
Creative Child Magazine Seal of Excellence Award
Mom's Choice Gold Award
NAPPA Gold Award in Educational Tools
The National Parenting Center Seal of Approval
Reviews
"Music Together's Singalong Storybooks blend whimsical illustrations and simple, melodic text to form kid-pleasing stories that can be enjoyed time and again. The thoughtful activity suggestions and downloadable songs for each book provide valuable tools to help parents and teachers strengthen children's early literacy skills and natural musical ability."
—Claudia Haines, MLIS, Youth Services Librarian, Homer, Alaska Public Library
---
"Like Jack and Jill, you and your child will keep coming back this lovely book. The simple storyline and interesting pictures create countless conversation opportunities for you and your child. We love this storybook!"
—Kim Nertney, Language Launchers™
---
"5 Stars! So cute! The blend of sing-songy lyrics and the charming illustrations in Two Little Blackbirds makes story time fun and memorable. The illustrations are colorful and playful—sure to capture a little one's attention. With reading, illustrations, music, and activities, this book is chock-full of entertainment value and introduces young ones to the arts. Two Little Blackbirds Singalong Storybook is a nice addition to any child's (or childcare worker's) bookshelf."
—Chris Hart, Cover Lover Book Blog
---
"My family has truly loved Music Together and the storybooks help deepen and extend what we are learning in class."
—Music Together parent
---
"Because my daughter already knew the songs she was interested and engaged by the books. It helped her learn new words and to be open to reading."
—Music Together parent
---
"We're excited that the Two Little Blackbirds Singalong Storybooks is joining this year's list of award-winning products. We recognize products that are innovative, engaging and stimulating. Our team of expert judges and parent evaluators meticulously scrutinize, test and play with hundreds of submissions throughout year. A NAPPA award-winning product is a product that parents can trust and kids will love."
—Julie Kertes, NAPPA General Manager
---
"After we read this book together, I had my class think about different ways we could act out the story. The kids really learned the songs and had fun moving to it as well. This singalong storybook provides a great way to start a class discussion about families, family tree relations, etc. I liked the teaching ideas in the back of the book (especially the Opposites activity suggestion)."
—Academics' Choice Awards teacher reviewer
---
"This cute story is about two birds that fly away and return over and over to build a nest and teach their babies to fly. At the end of the book you are given a suggested list of activities to do besides singing along to the story. These activities involve teaching kids about rhyming, opposites, and word substitution. Testers liked the suggestions and felt that the games added to the experience. The book is well made, using child-friendly colors, tones, rhymes, and pictures. The illustrations are exquisite, just like many other books from multiple-seal-winning Music Together. The words are printed big and in a child-friendly font which is great for them but also for you if you misplaced your glasses!"
—The National Parenting Center
---
These "Two Little Blackbirds" are named Jack and Jill. They fly away and return over and over as they build their nest, hatch their eggs, and teach their babies to fly.
This engaging storybook is based on the popular song of the same name from the Music Together curriculum.
This 32-page, beautifully illustrated storybook inspires singing, pre-literacy learning, and imaginative play between children and adults.
Available in both hardcover and board-book formats, the book includes fun activity suggestions designed to stimulate learning and music-making, both at home and in the classroom. A download of the song comes with each storybook.
Age/Grade range: 1-8 years/Baby-2nd grade
Two Little Blackbirds Storybook (Board book with song download)
$ 9.95
K0591
Two Little Blackbirds Storybook (Hardcover with song download)
$ 13.95
K0590