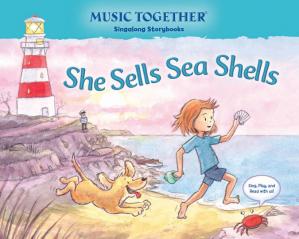 She Sells Sea Shells Singalong Storybook
Awards

Award-winning Storybook:
Academics' Choice Smart Book Award
Creative Child Magazine Preferred Choice Award
Dr. Toy's 10 Best Audio/Visual/DVD Award
Dr. Toy's 100 Best Children's Products (#6 ranking)
Mom's Choice Gold Award
NAPPA Silver Award in Educational Tools
National Parenting Center's Seal of Approval
Reviews
"She Sells Sea Shells is a fantastic book to add to your young singers' library. The pleasantly illustrated book uses soft colors and characters to properly convey this age old tongue twister. The activities in the back of the book help scaffold the young child's learning about colors, shells and the beach. In one added literacy component the author points the reader to go back through the book to look for specific "seaside friends." In another, the child is asked to discover all of the "S's" that can be found throughout the book. If this sounds like a good fit for you and your child, I'd recommend the Music Together Family Favorites CD that goes along with it."
—Academics' Choice Awards reviewer
---
"Based on the famous tongue twister, this book offers an upbeat, sweet, simple story and lovely illustrations. While you read the book—and your children have fun with the challenging twister—you will also learn about the origins of the familiar lines. It is actually the true life story of an uneducated paleontologist who collected fossils near her home. The book sparks conversations with school-aged children about friends, colors, the environment, literacy, and more. With the hardcover book, you get a code to download music that is designed to accompany the book. Together with the music, the testers felt that the whole experience expanded to one more along the lines of a multimedia, multi-sensory experience to be shared with your child."
—Reviewer for the National Parenting Center
---
"Part of the Singalong Storybook series, She Sells Sea Shells transforms the classic tongue-twister into a delightful children's picturebook. Parents and children are invited to share the rhyme while singing to music; the accompanying tune is available both in the form of song sheets included within the book, and as a free download with purchase through www.musictogether.com. She Sells Sea Shells lends itself to fun and read-aloud cognitive development with or without the music, and the friendly, cartoon-style color illustrations add just the right touch of lively playfulness."
—James Cox and Diane Donovan, Children's Bookwatch, Midwest Book Review
---
"A book that brings an adult and a child together in a fun, educational and learning experience is wonderful and uplifting. The Music Together Singalong Storybooks do just that and more."
—Connie Withay, Bookpleasures.com reviewer
---
"We started this book with trying to say She Sells Sea Shells really fast ten times—the kids learned what a tongue twister was! The book follows a young girl who lives in a lighthouse and collects sea shells to the beachgoers. It's great for pointing out the different types of shells, as well as the various colors they come in. Once again, the photos are darling—it's fun to see how the people wear the shells they buy!

I couldn't remember how the tune of this song went, so I read it (instead of sang it), and then we went through our Music Together CDs to find it. "She Sells Sea Shells" is a lullaby, and it was a great way to end the day. I tucked the kids in, played the last of the song, and they went to bed with visions of the ocean in their heads. Can you think of a better way to fall asleep?"
—Breezy Mama Blogger
---
"Children and their families will love the fun and interaction that She Sells Sea Shells brings. This singalong uses a great mixture of honing cognitive skills and developing basic aural training. The activities provide perfect platforms to talk about the material, while engaging the child's creativity and imagination."
—Michael Shawn Lewis, Founder of the New York Children's Theater Festival and Gables Grove Productions
---
"The gorgeous illustrations that accompany the much-loved, classic Music Together song 'She Sells Sea Shells' come together in this book to create a multi-sensory, multimedia experience for kids of any age that'll make them (and their parents) beg to go to the beach and sing about it for a long time afterwards."
—Alina Adams, New York Times best-selling author; Red Tricycle and Mommy Poppins contributor
---
"Each page in this linguistic treasure unfolds a playful adventure of endless opportunities for language development."
—Pam Talbot and Kim Nertney, co-founders of Language Launchers™, a language-development program for families with young children
---
"Both She Sells Sea Shells and Hello, Everybody! are meant to help young, pre-literate children and grown-ups play, sing, and learn together at home and in classrooms. If there is one thing I found working with kids is they need positive, friendly, and encouraging adult attention, starting at the youngest ages and continuing through the teenage years. She Sells Sea Shells and Hello, Everybody! can help children learn through repetition, making the "Hello Song" and others like it, important learning tools. Repetition helps children, and adults, master languages and math. These songs also bring adults and children together to play and stimulate imagination. She Sells Sea Shells and Hello, Everybody! are the book versions of a Wii. The Wii brings families together playing simple games like bowling and archery. These Music Together books can bring the young family together in story and song, while enhancing the life of the youngest child."
—Kid Lit Reviews
---
"She Sells Sea Shells is a singalong storybook. The book includes the words of the beloved tongue-twister about Mary Anning, the nineteenth-century paleontologist who collected fossils in Dorset.

The classic lyrics have been adapted by Kenneth K. Guilmartin for Music Together, an international early childhood music program that has been in existence for nearly twenty-five years. Music Together was founded on the belief that every child has the inherent ability to be musical, providing he or she is introduced to music at an early age.

This book is therefore designed for young children, particularly children one to six years of age; however, people of all ages will love it.

Kenneth K. Guilmartin's modern adaptation of the classic lyrics about the woman who collected sea shells, reveals, instead, a free-spirited barefoot young girl as our heroine. We see her on every page—three sea birds hover close to her as she travels in a row boat with her dog; together, they come across all kinds of shells, sea creatures, animals, people, and beach scenes.

All of these scenes are brought to life by the subtle and potent watercolours by illustrator Bruno Merz. He uses an array of colours that creates a soothing effect akin to the book's rhythmic lyrics which, in turn, almost mimic or conjure up the peaceful sound of ocean waves.

Sheet music and activities are included at the back of this beautiful book, inspiring children and adults to make it a sing-along songbook indeed."
—Barbara C. Burgess, Bookpleasures.com reviewer
---
"As a Music Together family, I was excited to see this new visual format for the wonderful songs that accompany it. She Sells Sea Shells works well for both younger and older children. My 2-year-old was bright eyed with wonder looking at the pages filled with familiar looking scenes of shore life and beautiful and varied shells. My 6-year-old loved singing the tongue twister and having the words in front of him to help sort out the sounds. The activities inspire creativity for learning activities on the beach, teach classification, compare and contrast skills, and enjoyably strengthen reading abilities."
—Academics' Choice Awards reviewer
---
"My family has truly loved Music Together and the storybooks help deepen and extend what we are learning in class."
—Music Together parent
---
"Because my daughter already knew the songs she was interested and engaged by the books. It helped her learn new words and to be open to reading."
—Music Together parent
---
"Music Together's Singalong Storybooks blend whimsical illustrations and simple, melodic text to form kid-pleasing stories that can be enjoyed time and again. The thoughtful activity suggestions and downloadable songs for each book provide valuable tools to help parents and teachers strengthen children's early literacy skills and natural musical ability."
—Claudia Haines, MLIS, Youth Services Librarian, Homer, Alaska Public Library
---
Oyster, mussel, snail, periwinkle, clam. "She Sells Sea Shells" all day long—with some help from her animal friends!
The She Sells Sea Shells Singalong Storybook is based on the popular song from the Music Together curriculum and the award-winning Music Together Family Favorites CD. The lyrics of this song include the well-known tongue-twister, and the soothing and mysterious melody reflects a sense of wonder about the many colors, shapes, and sizes of shells left by the creatures of the sea.
This 32-page, beautifully illustrated storybook inspires singing, pre-literacy learning, and imaginative play between children and adults.
Available in both hardcover and board-book formats, the book includes fun activity suggestions designed to stimulate learning and music-making, both at home and in the classroom. A download of the song comes with each storybook.
Age/Grade range: 1-8 years/Baby-2nd grade
She Sells Sea Shells Storybook (Hardcover with song download)
$ 12.95
K0457