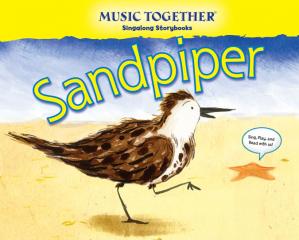 Sandpiper Singalong Storybook
Awards

Award-winning Storybook:
Parents' Choice Recommended Award
Academics' Choice Smart Book Award
Creative Child Magazine Media of the Year Award
Creative Child Magazine Preferred Choice Award
Dr. Toy's 100 Best Children's Products Award
Dr. Toy's Best Pick Award
Mom's Choice Gold Award
NAPPA Gold Award in Educational Tools
National Parenting Center Seal of Approval
Reviews
"Sandpiper is a spellbinding, family-fun song, and a beautifully illustrated book! The book's multidisciplinary approach develops oral language, singing, and pre-literacy skills, along with topic learning. Plus, it inspires physical activity (as it's hard not to act out the song)."
—Academics' Choice Awards reviewer
---
"Sandpiper is fun to read, fun to sing, and fun to act out. This joyful romp supports the development of early literacy and singing skills. I love it!"
—Cen Campbell, Head Librarian at Bookboard.com, Founder and Digital Services Consultant at LittleLit.com
---
"A book that brings an adult and a child together in a fun, educational and learning experience is wonderful and uplifting. The Music Together Singalong Storybooks do just that and more."
—Bookpleasures.com Reviewer
---
"I love the Music Together books. They bring back wonderful memories of my family's time in the live classes. The beautiful illustrations are engaging and my young son enjoys pulling out the books just to admire them. For those who play instruments, the music, on which each book is based, can be found in the back for musical accompaniment. These books are the next best thing to being in a live classroom. I highly recommend this book to families, especially those with young children."
—Academics' Choice Awards reviewer
---
"My family has truly loved Music Together and the storybooks help deepen and extend what we are learning in class."
—Music Together parent
---
"Because my daughter already knew the songs she was interested and engaged by the books. It helped her learn new words and to be open to reading."
—Music Together parent
---
"Music Together's Singalong Storybooks blend whimsical illustrations and simple, melodic text to form kid-pleasing stories that can be enjoyed time and again. The thoughtful activity suggestions and downloadable songs for each book provide valuable tools to help parents and teachers strengthen children's early literacy skills and natural musical ability."
—Claudia Haines, MLIS, Youth Services Librarian, Homer, Alaska Public Library
---
Run in the sand and play in the waves with a little "Sandpiper" and his flock until it's time for them to go to sleep in the moonlit dunes.
This delightful storybook is based on the popular song of the same name from the Music Together curriculum, which is featured on the award-winning Music Together Family Favorites 2 CD.
Sandpiper inspires singing, pre-literacy learning, and imaginative play between children and adults.
Available in both hardcover and board-book formats, the book includes fun activity suggestions designed to stimulate learning and music-making, both at home and in the classroom. A download of the song comes with each storybook.
Age/Grade range: 1-8 years/Baby-2nd grade
Sandpiper Storybook (Board book with song download)
$ 9.95
K0530
Sandpiper Storybook (Hardcover with song download)
$ 13.95
K0529