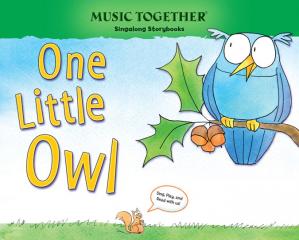 One Little Owl Singalong Storybook
Awards

Award-winning Storybook:
Academics' Choice Smart Book Award
Creative Child Magazine Preferred Choice Award
Dr. Toy's 10 Best Audio/Visual/DVD Award
Dr. Toy's 100 Best Children's Products Award
Mom's Choice Gold Award
NAPPA Honors Award in Educational Tools
National Parenting Center's Seal of Approval
Parents' Choice Approved Award Winner
Reviews
"The song, and most Music Together songs, have repetition and invite the singer and reader to create their own verses of the song, inspiring imagination of different animals and the unique sounds they can make. The activities listed in the back of the book are only a starting point. There are actually many more interactive ways to develop specific learning abilities. Using other languages to count the animals, having the children name the animals as you sing 'three little.... said...' as you point to the words and help them develop contextual clues for literacy, and coming up with other types of trees for the animals are only a few. It is an interesting perspective to give the tree feelings. This is another aspect of this book and song that develops social emotional health. It starts conversations about caring for the natural world, people included. This book gets an A+ for developing so many aspects of a young child's brain."
—Academics' Choice Reviewer
---
"This clever, sweet storybook comes with its own song that enhances the shared reading experience you will have with your child. Inside the book are instructions for downloading the music, which is wonderfully produced and a perfect accompaniment, soft and soothing, ideal for toddlers. The pictures stand out for their cute designs and eye catching appeal. The words on the page are large and easy to follow along with when the song is playing. Parents had lots of praise for the quality of the book, its binding, and thick pages. They also noted that the book had a great ability to calm a child and hold their attention. Children repeatedly asked for this book at bedtime which is the ultimate praise at this age."
—Reviewer for the National Parenting Center
---
"A third Singalong Storybook from the interactive Music Together early childhood music program, colorfully illustrating a song sure to tickle funny bones, about an oak tree and its ever-increasing complement of occupants. Music is available in a free download and the book's activity guide provides for ample additional fun."
—Parents' Choice Reviewer
---
"Music Together Singalong Storybooks are the perfect way to enjoy music, bond with your children, and practice reading at the same time. (My daughters) loved it! I was pleasantly surprised by the value you get from this book. It is priced similar to other hard cover children's books, but you get so much more. Inside the book, in addition to the story, you'll find tips and ideas for how to use the book and the recording to enhance your children's experience; five activity suggestions: Exploring, Variations, Literacy, Imagination, and Counting; and a song page with the music and lyrics so you can see the tune and play along on a piano or other instrument."
—Susan Carraretto, 5 Minutes For Mom blogger
---
"One Little Owl is the third book in the Music Together Singalong Storybook Collection. It is intended for very young children, particularly children one to seven years of age; however, people of all ages will love it.

The illustrations by Nancy Meyers are charming. They provide lovely and lively images to accompany the new words that the child will pick up by reading and hearing the book. Words like "squirrel," "owl," and "cat" are brought to life by the beautiful, colorful pictures. The animals make all kinds of unique sounds which will surely be enjoyed by the young. Through repetition and lyrical linguistic patterns, new language learners will start learning how to count and speak. Older kids, too, will enjoy the zany scenes of more and more birds, animals, and people ending up the in the old oak tree.

One Little Owl is accompanied by learning activities which will inspire children and parents to thoroughly participate in--and even add to--the story. I would recommend this book particularly as educational and entertaining, particularly for very young children."
—Barbara Burgess, Bookpleasures.com reviewer
---
"Music Together has released a fun singalong book about One Little Owl. It is a cute one that makes one and all want to get on their feet, jump, tumble, and sing the song "One Little Owl."

The story has so many activities you can do like name the all the creatures and the sounds they make. Don't forget to make funny facial expressions and gestures to animate the creatures. Counting the creatures is as easy as 1, 2, 3. Older children who are familiar with higher numbers can count all the creatures. The activity I really liked was to sing a verse and let your child sing the next verse. You will find that even the smallest of the children will try to repeat the next verse.

Grab some musical instruments like tambourines, castanets, drums and more. Make a joyful noise!

I highly recommend this book to parents, grandparents, caregivers, teachers, etc. For ages young and old. I rated the book a 5 out of 5."
—Patricia Kemp Blackmon, It's Time to Read Mamaw blogger
---
"One Little Owl is a HOOT for all. In addition to being entertaining and fun to read, the simple song lyrics provide repetitive linguistic patterns helpful for the new language learner. At the same time, the engaging illustrations easily stimulate conversations between children and their favorite adults."
—Kim Nertney and Pam Talbot, co-founders of Language Launchers™, a language-development program for families with young children
---
"A book that brings an adult and a child together in a fun, educational and learning experience is wonderful and uplifting. The Music Together Singalong Storybooks do just that and more."
—Connie Withay, Bookpleasures.com reviewer
---
"Part of the Music Together Singalong Storybook series, One Little Owl is a picture book that encourages young people to read and sing along with the simple, repetitive lyrics and colorful animals. Colorful illustrations bring the playful antics of animals to life, and a simple, music-note rendition of One Little Owl's melody is on the penultimate page."
—James A. Cox and Diane C. Donavan, Children's Bookwatch, The Midwest Book Review
---
"One Little Owl is a fantastic visual addition to Music Together's already wonderful music programs. Nancy Meyers' illustrations are very pleasing to the child's eye. They make you laugh and bring out that natural silliness that children want to express. The simple layout and largeness of the animals introduced differentiates the animals well and allows children to observe the animals and compare and contrast."
—Academics' Choice Reviewer
---
"My family has truly loved Music Together and the storybooks help deepen and extend what we are learning in class."
—Music Together parent
---
"Because my daughter already knew the songs she was interested and engaged by the books. It helped her learn new words and to be open to reading."
—Music Together parent
---
"Music Together's Singalong Storybooks blend whimsical illustrations and simple, melodic text to form kid-pleasing stories that can be enjoyed time and again. The thoughtful activity suggestions and downloadable songs for each book provide valuable tools to help parents and teachers strengthen children's early literacy skills and natural musical ability."
—Claudia Haines, MLIS, Youth Services Librarian, Homer, Alaska Public Library
---
This humorous Singalong Storybook tells the story of many creatures, starting with one little owl, who all sit in the old oak tree—until it's had quite enough! Share in children's delight as all the creatures come (safely) tumbling down.
The One Little Owl Singalong Storybook perfectly captures the playfulness of the popular song by the same name from the Music Together curriculum and the award-winning "Music Together Family Favorites" CD. The charming and engaging illustrations and story make it a fun book to read and sing for children and adults alike.
This 32-page, beautifully illustrated storybook inspires singing, pre-literacy learning, and imaginative play between children and adults.
Available in both hardcover and board-book formats, the book includes fun activity suggestions designed to stimulate learning and music-making, both at home and in the classroom. A download of the song comes with each storybook.
Age/Grade range: 1-7 years/Baby-1st grade
One Little Owl Storybook (Board book with song download)
$ 8.95
K0484
One Little Owl Storybook (Hardcover with song download)
$ 12.95
K0483