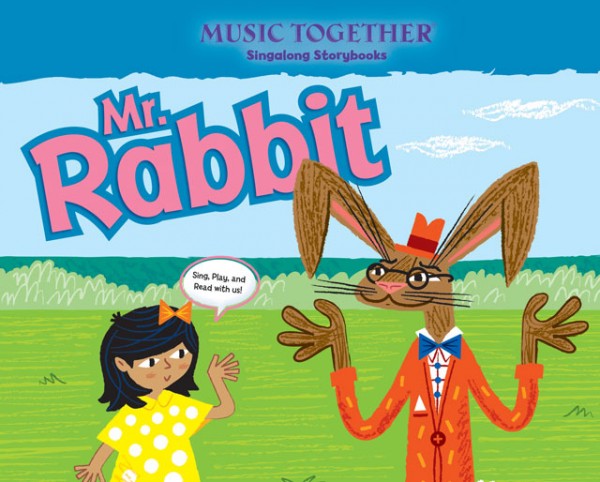 Mr. Rabbit Singalong Storybook
Awards

Award-winning Storybook:
Parents' Choice Recommended Award
Academics' Choice Smart Book Award
Creative Child Magazine Book of the Year Award
Creative Child Magazine Seal of Excellence Award
Mom's Choice Gold Award
NAPPA Gold Award in Educational Tools
The National Parenting Center Seal of Approval
Reviews
"Music Together's Singalong Storybooks blend whimsical illustrations and simple, melodic text to form kid-pleasing stories that can be enjoyed time and again. The thoughtful activity suggestions and downloadable songs for each book provide valuable tools to help parents and teachers strengthen children's early literacy skills and natural musical ability."
—Claudia Haines, MLIS, Youth Services Librarian, Homer, Alaska Public Library
---
"The playful rhythm, rhyme, and repetition in Mr. Rabbit lay the foundation for building solid language and singing skills. Put to music, it's a symphony for success. We love it!"
—Pam Talbot, Language Launchers™
---
"My family has truly loved Music Together and the storybooks help deepen and extend what we are learning in class."
—Music Together parent
---
"Because my daughter already knew the songs she was interested and engaged by the books. It helped her learn new words and to be open to reading."
—Music Together parent
---
"We're excited that the Mr. Rabbit Singalong Storybook is joining this year's list of award-winning products. We recognize products that are innovative, engaging and stimulating. Our team of expert judges and parent evaluators meticulously scrutinize, test and play with hundreds of submissions throughout year. A NAPPA award-winning product is a product that parents can trust and kids will love."
—Julie Kertes, NAPPA General Manager
---
"I liked the teaching ideas in the back of the book. I also liked the diversity in the characters and the overall message of embracing our differences."
—Academics' Choice Awards teacher reviewer
---
"Testing families told us how much they enjoyed music. From a child's perspective, the illustrations are vibrant, imaginative and have a load of familiar animals, shapes and colors. Mr. Rabbit is the story's protagonist who takes the reader on a journey to live free and have a happy spirit. Activity tips such as inventing new lyrics and dancing to the song to interact with the book are helpful features. Parents felt that these extra tips promoted additional critical thinking and cognitive skills."
—The National Parenting Center
---
Mr. Rabbit is a trickster who doesn't care if his ears are too long. He teaches everyone to love their differences—and to let their souls shine, shine, shine.
This delightful storybook is based on the popular song of the same name from the Music Together curriculum, which is featured on the award-winning Music Together Family Favorites 2 CD.
This 32-page, beautifully illustrated storybook inspires singing, pre-literacy learning, and imaginative play between children and adults.
Available in both hardcover and board-book formats, the book includes fun activity suggestions designed to stimulate learning and music-making, both at home and in the classroom. A download of the song comes with each storybook.
Age/Grade range: 1-8 years/Baby-2nd grade
Mr. Rabbit Storybook (Board book with song download)
$ 9.95
K0587
Mr. Rabbit Storybook (Hardcover with song download)
$ 13.95
K0586