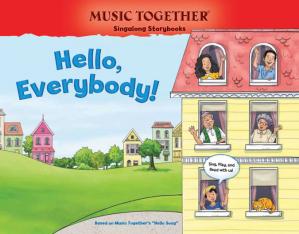 Hello, Everybody! Singalong Storybook
Awards

Award-winning Storybook:
Creative Child Magazine Book of the Year Award
Creative Child Magazine Media of the Year Award
Mom's Choice Gold Award
NAPPA Honors Award in Educational Tools
National Parenting Center's Seal of Approval
Dr. Toy's 10 Best Audio/Video/DVD Award
Dr. Toy's 100 Best Children's Products Award
Parents' Choice Approved Award Winner
Reviews
"Parents and children alike were delighted with this wonderfully interactive storybook. By using both reading and singing to enforce the storyline there were lots of smiles and giggles with each page. This also made for great bonding and sharing time. The repetition on each page, in this case singing 'Hello,' made it easy to follow along with the story. Parents told us that their children wanted to read this book again and again. David Hill was singled out by many testers for his wonderful illustrations. Non-readers eagerly pointed out characters, animals, and objects they recognized on the pages. The simple concept of sharing a happy Hello with others is something that really resonated, not just with children, but parents as well."
—Reviewer for the National Parenting Center
---
"Part of the recent Singalong Storybook series from the Music Together early childhood music program, this engagingly illustrated picture book invites children to sing and play, guided and inspired by the simple song lyrics (greetings to family, family pets, a tree in the park, the neighborhood trolley and a museum dinosaur) and two pages of activity suggestions. The book comes with a free download of the music."
—Parents' Choice Reviewer
---
"When my kiddos were tots, nothing stopped them faster in their tracks than singing the first two words of this song, which, as you can guess, is 'Hello, Everybody.' It starts off each Music Together class, and every child who is in the class gets mentioned. The book has the lyrics of the famous song, but goes on to say 'hello' to each thing in 'the world.' 'Hello to the houses, so glad to see you,' and so on. The illustrations are adorable and pretty darn funny. For example, at one point, the children in the story say hello to a dinosaur in the museum, which then comes to life and you can see him following them throughout their neighborhood as well. Very cute. And for those of you living in the San Francisco area—you'll see a lot of resemblance with the pictures!"
—Breezy Mama Blogger
---
"A book that brings an adult and a child together in a fun, educational and learning experience is wonderful and uplifting. The Music Together Singalong Storybooks do just that and more."
—Connie Withay, Bookpleasures.com reviewer
---
"The perfect harmony of opportunities for music, language, and literacy development shine through in this Music Together favorite, Hello, Everybody!"
—Pam Talbot and Kim Nertney, co-founders of Language Launchers™, a language-development program for families with young children
---
"Highly recommended is Music Together's book for little ones ages 1-6, Hello, Everybody!"
—James Cox and Diane Donovan, Children's Bookwatch, Midwest Book Review
---
"Hello, Everybody! is a Singalong Storybook created by Music Together, an international early childhood music program. The book is based on Music Together's "Hello Song" by Kenneth K. Guilmartin and is designed for children one to six. David Hill's exquisite illustrations bring the story to life—the toy animals seem almost life-like. The characters we meet in the books: parents, grandparents, an uncle and a baby, as well as many other people, are all imbued with a sense of overwhelming friendliness. Any child who has the opportunity to enjoy this sing-along book, would certainly feel the sense of the world being a loving and welcoming place.

Even the pets, the cat and dog, reappear throughout the story with charm and personality. The book and music enhance a child's ability to learn words, and this indeed is the premise of Music Together, namely, that every child has the inherent ability to be musical, providing he or she is introduced to music at an early age. This book is geared for young children, but people of all ages will love it. Reading it, I was reminded of the words of a famous author, George MacDonald, who wrote: 'For my part, I do not write for children, but for the childlike, whether of five, or fifty, or seventy-five.'"
—Barbara C. Burgess, Bookpleasures.com reviewer
---
"Both She Sells Sea Shells and Hello, Everybody! are meant to help young, pre-literate children and grown-ups play, sing, and learn together at home and in classrooms. If there is one thing I found working with kids is they need positive, friendly, and encouraging adult attention, starting at the youngest ages and continuing through the teenage years. She Sells Sea Shells and Hello, Everybody! can help children learn through repetition, making the "Hello Song" and others like it, important learning tools. Repetition helps children, and adults, master languages and math. These songs also bring adults and children together to play and stimulate imagination. She Sells Sea Shells and Hello, Everybody! are the book versions of a Wii. The Wii brings families together playing simple games like bowling and archery. These Music Together books can bring the young family together in story and song, while enhancing the life of the youngest child."
—Kid Lit Reviews
---
"My family has truly loved Music Together and the storybooks help deepen and extend what we are learning in class."
—Music Together parent
---
"Because my daughter already knew the songs she was interested and engaged by the books. It helped her learn new words and to be open to reading."
—Music Together parent
---
"Music Together's Singalong Storybooks blend whimsical illustrations and simple, melodic text to form kid-pleasing stories that can be enjoyed time and again. The thoughtful activity suggestions and downloadable songs for each book provide valuable tools to help parents and teachers strengthen children's early literacy skills and natural musical ability."
—Claudia Haines, MLIS, Youth Services Librarian, Homer, Alaska Public Library
---
This Singalong Storybook is based on the "Hello Song" from the award-winning Music Together Family Favorites CD. This iconic song is sung by families and schools at the start of every Music Together class. Over the past 25 years, millions of children, adults, and teachers have used this song to sing hello to each other and to the world around them!
This 32-page, beautifully illustrated storybook inspires singing, pre-literacy learning, and imaginative play between children and adults.
Available in both hardcover and board-book formats, the book includes fun activity suggestions designed to stimulate learning and music-making, both at home and in the classroom. A download of the song comes with each storybook.
Age/Grade range: 1-8 years/Baby-2nd grade
Hello, Everybody! Storybook (Board book with song download)
$ 8.95
K0470
Hello, Everybody! Storybook (Hardcover with song download)
$ 12.95
K0472