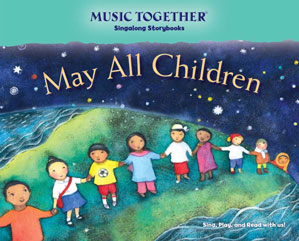 May All Children Singalong Storybook
Awards

Award-winning Storybook:
Parents' Choice Recommended Award
Academics' Choice Smart Book Award
Creative Child Magazine Media of the Year Award
Creative Child Magazine Preferred Choice Award
Dr. Toy's 10 Best Audio/Visual/DVD Award
Dr. Toy's 100 Best Children's Products Award
Mom's Choice Gold Award
NAPPA Gold Award in Educational Tools
National Parenting Center Seal of Approval
Reviews
"May All Children is beautiful in concept and design. A world of reading, singing, and conversational opportunities await to be explored as you travel through each page."
—Pamela Talbot and Kim Nertney, Co-founders of Language Launchers™
---
"I got a sneak peak of this adorable story book and song, and I ABSOLUTELY LOVE IT!!! I know this will quickly become a family bedtime favorite with its soothing melody and easy-to-remember lyrics! I found myself singing the song to my son after only hearing it once!!"
—Macaroni Kid blog reviewer
---
"As a children's librarian, I'm always on the lookout for books that support caregiver-child engagement and foster the love of reading in little people and the big people who love them. The Music Together Singalong Storybooks are the ideal tools to encourage singing as an early learning practice, and to support joyful music-making at home. High-quality illustrations, written words to some of our favorite songs, and ideas for extension activities all contribute to a comprehensive musical and literacy-supporting experience. I can see these books being used far and wide in story times."
—Cen Campbell, Head Librarian at Bookboard.com, Founder and Digital Services Consultant at LittleLit.com
---
"I am a certified teacher, but I am now a stay-at-home mom to my three kids! I enjoyed May All Children and my kids thought it was a lot of fun to have music to go along with the book. The illustrations are very colorful and thoughtful. Overall, we really enjoyed the book."
—Academics' Choice Awards reviewer
---
"May All Children is a beautiful storybook with universal appeal."
—The Midwest Book Review
---
"My family has truly loved Music Together and the storybooks help deepen and extend what we are learning in class."
—Music Together parent
---
"Because my daughter already knew the songs she was interested and engaged by the books. It helped her learn new words and to be open to reading."
—Music Together parent
---
"Music Together's Singalong Storybooks blend whimsical illustrations and simple, melodic text to form kid-pleasing stories that can be enjoyed time and again. The thoughtful activity suggestions and downloadable songs for each book provide valuable tools to help parents and teachers strengthen children's early literacy skills and natural musical ability."
—Claudia Haines, MLIS, Youth Services Librarian, Homer, Alaska Public Library
---
The May All Children Singalong Storybook tells the story of children from all walks of life sharing a simple, heartfelt wish for peace for everybody on our earth. The exquisite illustrations and thoughtful message of this book are an excellent conversation-starter on what it means to have a peaceful heart and mind.
This beautiful storybook is based on the popular lullaby of the same name from the Music Together curriculum, which is featured on the award-winning Music Together Family Favorites and Lullabies CDs.
This 32-page, beautifully illustrated storybook inspires singing, pre-literacy learning, and imaginative play between children and adults.
Available in both hardcover and board-book formats, the book includes fun activity suggestions designed to stimulate learning and music-making, both at home and in the classroom. A download of the song comes with each storybook.
Age/Grade range: 1-8 years/Baby-2nd grade
May All Children Storybook (Board book)
$ 9.95
K0517
May All Children Storybook (Hardcover)
$ 13.95
K0519