Music Together Generations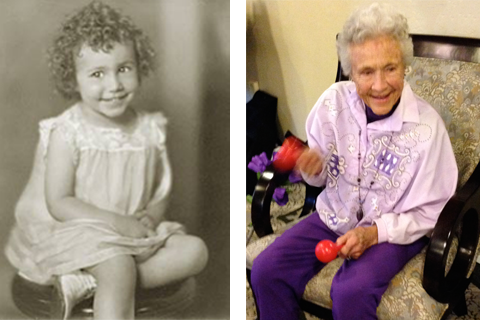 Photos courtesy of Lola Larson
Lola in 1929, and today
On a sunny Tuesday afternoon at the Las Villas de Carlsbad retirement and assisted living center in Carlsbad, California, a large group of senior residents, children, and parents jam and sing to a rousing rendition of "When the Saints Go Marching In" as part of their weekly Music Together class.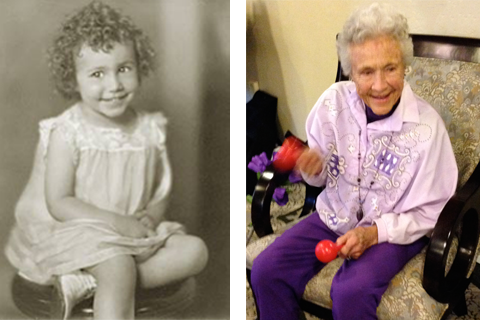 Photos courtesy of Lola Larson
Lola in 1929, and today
Resident Lola Larson is particularly animated. Drum in hand, she stands and marches with a broad smile on her face. "This music program is the greatest," she says. "It helps the children feel the beat in their souls!" Lola, age 89, knows a thing or two about the beat: as a child in the 1920s, she danced and sang in The Little Rascals films, which were directed by her uncle, well-known producer and director Hal Roach. For Lola and many other elders, the Music Together class is an opportunity to be introduced—or reintroduced—to the joy of community music-making.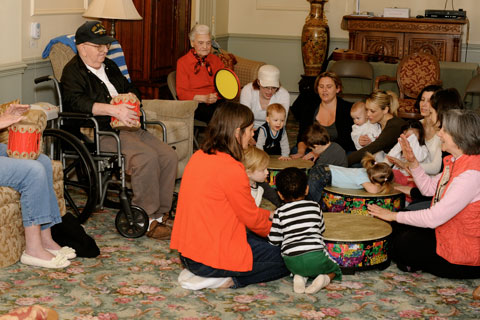 Photo by Karin Bruno
Music Together Generations classes, like Lola's, are held at many locations around the country. Every day, in retirement homes, assisted living facilities, and adult day services centers, people of all ages come together to sing, dance, shake eggs, and swing scarves. With grandparents and great-grandparents making music alongside babies, toddlers, and preschoolers, the classes take on an even deeper meaning. "One of the things that stands out for me is the pleasure that parents get from watching their children form relationships with elders," explains Devi Borton, Outreach Mentor at Music Together LLC. "So many of us are scattered from our families of origin, and we're not in contact with our elders. Parents find this interaction deeply meaningful, and it's also meaningful for the teachers to witness and facilitate those connections."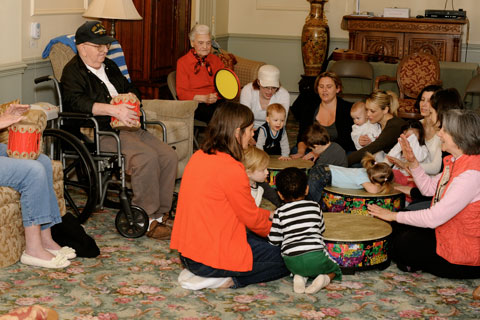 Photo by Karin Bruno
Sarah Schneider and her two children, Will and Emma, have been attending classes at Ivy Lodge Assisted Living in Saugerties, New York, since 2010. …
---
—Kate Battenfeld is a Music Together Contributing Writer and Center Director of Joyful Jumping Music Together in Carlsbad, Oceanside, and Vista CA.