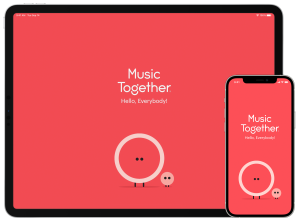 We've just launched a brand-new Music Together app that replaces our Hello Everybody app. This new music player has an updated, intuitive interface that makes it super-easy for you to play your Music Together tunes whenever and wherever you'd like. Download it from the Apple App Store or the Google Play Store today!
Music Together families, log in with your Music Together account (or create one on the app with the code in your songbook) to get your songs into the app. Then, have fun singing and dancing along. (And If you already have the Hello Everybody app, it will update to the Music Together app; no need to download.)
If you're not enrolled in class yet, the app comes preloaded with the Welcome Collection, a set of 12 of our most popular songs. Enjoy this taste of Music Together! You can search for a class in your neighborhood from within the app when you're ready to come to class.
App Features Overview
Make any time music time
Start with 12 free songs—then, every semester you enroll in a Music Together class, unlock the music from your Music Together class using the code in your songbook.
One account, many musical moments
You can log in to the app and listen to your unlocked music from multiple devices. So share your username and password with your child's other caregivers.
More musical fun for your family
On-screen lyrics
Create Music Together playlists
Digital songbooks, notation, and music development resources
Digital Singalong Storybooks, including a free copy of Hello, Everybody!