An Interview with Maggie Baird
When Maggie Baird was raising her two children, there was always music somewhere in the house—and the former Music Together teacher and her husband, actor Patrick O'Connell, wouldn't have it any other way. A friend of her daughter Billie once commented that Maggie, Patrick, Billie, and Finneas were just like a family in a movie, nonchalantly adding their own harmony and percussion to whatever song is playing on the radio. Maggie couldn't agree more. "We were that family! There was just always singing," she says. "Someone playing piano or guitar, lots of lullabies at night, and always music in the car."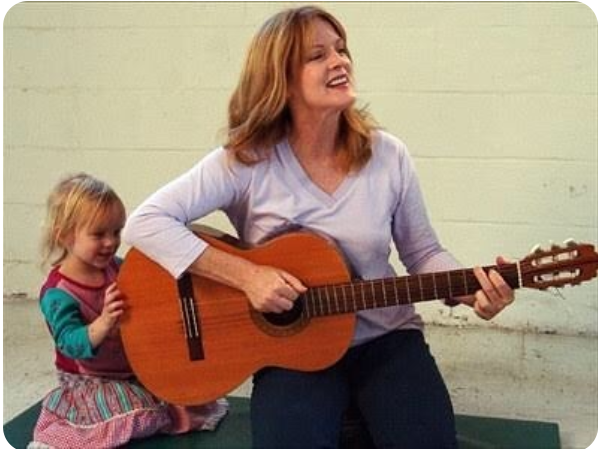 These days, when you turn on the radio, you might find yourself singing along with Maggie's grown-up musical kids: multiple Grammy Award winners Billie Eilish and Finneas Baird O'Connell. (In fact, in January 2020, 18-year-old Billie became only the second person in history to win all four major Grammys in one year!)
Maggie and Patrick, both hobbyist musicians, made music a part of Billie and Finneas's lives from the very beginning, singing and dancing with them all the time, for fun and, sometimes, just to get through the day. Like so many moms and dads, the couple turned to music to help them through those everyday parenting challenges. Maggie recalls, "Neither one of our kids wanted to be in a car seat or a stroller . . . they wanted to be moving. So we put the music on and moved!"
Maggie became a Music Together teacher when Billie was ten months old, and Finneas, four, after researching music programs for Finneas's cooperative nursery school. "I found Music Together and went straight to the Teacher Training!" Maggie said. "I was only intending to teach at my son's school, but I was soon teaching family classes in my neighborhood a few mornings a week and classes at a few other preschools in the area."
Music Together became an important part of the family's life, as Maggie taught for six years and Billie and Finneas attended classes. And, of course, Patrick joined in the fun, too. According to Maggie, "A big part of the reason that I love Music Together is the family interaction. Once in a while, I would ask my husband to come to class and play the piano for the movement section. There's a video of Billie in a pink tutu, with Patrick practicing [Music Together original song] 'Foolin' Around' on the piano, and she's just dancing all over. That little clip is now in many different videos about her, including one on Apple Music."
Impromptu dance parties like that were the sort of thing that happened in the Baird-O'Connell household all the time. "It was constant music-making, lots of dancing. Before we found Music Together, it was all the classics. And then we played those Music Together CDs like crazy!"
As we hear from lots of Music Together parents, the recordings became the family's go-to car jams, and were often included on the playlists (or, as Maggie calls them, "mix tapes") Maggie and Patrick made for their kids. Even now, Music Together sometimes makes a surprise appearance, as Maggie relates. "We'll be in the middle of a photo session, shuffling songs on our phones, and a pop song will end and suddenly a Music Together song will start playing. We'll all start laughing really hard!"
More than a decade after Maggie was a teacher and her children were in class, Music Together remains a bright spot in the family's memory. "It has that same emphasis on play and learning through experience that was basically our whole educational philosophy," Maggie says. It resonated with her so much so that she continues to recommend Music Together to new parents to this day. This past holiday season, Maggie gave gift certificates for classes to members of Billie's production team who have children.
Over the years, she also wondered whether Music Together impacted her children's music development. "I don't know how well you know Billie's music, but she always sings exactly on pitch. It's unreal! And Finneas can play anything, even though he's never had a lesson," she says. "I always wonder how much Music Together might have played a part in that. I played the CDs all the time, and they were going to all the classes. Music Together was a pretty big part of our lives!"
Maggie grew up in a musical household herself, with parents she describes as "local church singers in a small town, who sang at everyone's weddings" and siblings who were in the school band. So, she understood the inherent value of making music. And, as a Music Together teacher, Maggie saw firsthand the impact the program had on creating musical families, even for parents who didn't consider themselves musical before they signed up.
While we can't all expect to raise rock stars like Billie and Finneas, all parents CAN start their children on a path to a lifetime of music. That's where Music Together comes in: Our program gives parents the tools and confidence to bring music into family life, just like Maggie and Patrick did. So, as you have fun singing, dancing, and playing along, know that you're doing everything you need to support your little one's growth into a lifelong music-maker, just by becoming a more musical family.