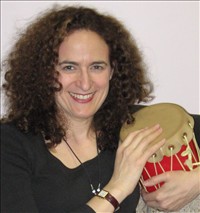 Babies: so adored, so cherished, and so mysterious! Parents often stare at their newborns, wondering, "What is going on inside that little, tiny mind?" The curiosity is even more intense when that little baby is all curled up inside its mother's womb, before birth. Did you know that the baby's most developed sense, before birth, is the sense of hearing? By studying fetal hearing and memory, scientists have learned to unravel a tiny piece of the mystery of how the unborn and newborn baby hears, remembers, and even thinks.
In the article posted below, originally published in Perspectives, the quarterly publication of the Early Childhood Music and Movement Association, Music Together director Julia Priest reports on three current studies that explore how fetuses, babies, and newborns perceive and experience sound—and, in turn, music.
Read it and let us know what you think!
Perspectives Vol 5, No.2, Research Review by Julia Priest
Used by permission. Perspectives: Journal of the Early Childhood Music & Movement Association, 2010.
Guest Contributor Julia Priest, M.S., M.Mus. is director of Music & Movement of Newton, offering Music Together in the Newton, MA, area. Julia has been a singer and teacher since 1987 and holds Music Together Teacher Certification Level II, the highest Music Together certification offered for outstanding achievement in teaching, musicianship, program philosophy, and parent education. She is also certified in Orff-Shulwerk and Dalcroze Eurythmics. Julia holds a B.A. in Classical Languages and Literatures from Yale University, an M.Mus. in Voice Performance from Boston University, and an M.S. in Speech and Language Pathology from the Massachusetts General Hospital Institute of Health Professions.