A Conversation with Susan Darrow and Lili Levinowitz, Ph.D.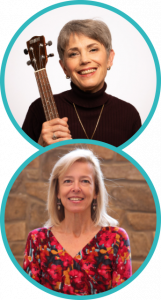 Making music as a family brings you closer together and naturally supports your child's development in so many ways. (That's why we say Music Learning Supports All Learning®!) Social distancing and remote work and school mean that a lot of us are spending more time together at home these days, so you might be looking for new family activities that are easy and fun for everyone. (Bonus if they are also educational!) Playing musically with your little ones checks all the boxes.
On September 17, Dr. Lili Levinowitz, Music Together® Coauthor and Director of Research, and Susan Darrow, Music Together Worldwide CEO, were live on Facebook talking about the impact of music on early childhood development. They shared lots of ideas for family music activities you can try at home to support your child's learning—plus tips on how music can help YOU through pandemic parenting!
Missed it? Check out the recording now, and if you have any questions for Lili or Susan, leave them in the comments!