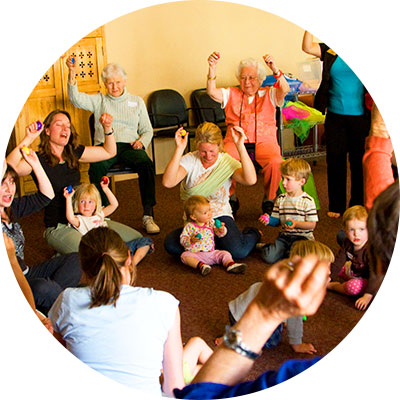 In a Music Together Generations class, "Hello, Everybody!" means something extra special.
That's because there's a third generation of music-makers in the room! Generations is a mixed-age Music Together class with the sweetest twist: the addition of senior participants. Babies, toddlers, preschoolers, and their grownups visit "Musical Grandfriends" at a local retirement home or senior center and spend time making music as a large extended family.
Including elders in a Music Together class creates a different kind of community-building experience. There's a sense of being part of something important and of giving back and a shared joy when families arrive to the senior facility each week to see their Musical Grandfriends. Generations classes can even provide a kind of substitute grandparent experience. It's easy to imagine the sweetness of this class and how great it is for the children and elders. But what about for you? The hidden gem of Generations is how much the parents get out of it!
Here's just a starter list of what you can look forward to for yourself when you join a Generations class:
PLANT SEEDS OF RESPECT. Young children learn everything first and best from watching you. If you want your child to feel comfortable around older adults, show them how it's done! When you sing with an elder, dance over to their chair or wheelchair or follow their lead in a partner activity, you're giving your child a powerful model of respect and appreciation for elders.
MAKE A NEW FRIEND. Getting to know the elders in your class can enrich your life, stimulate your intellect, and challenge your assumptions about aging and the elderly. If you can, come to class a little early. Grandfriends are usually there waiting and love the company. Compare favorite movies, ask about where they grew up, bring your child's favorite picture book to share. Your new friends will love getting to know you beyond your role as a parent or caregiver, too!
RAISE YOUR VOICE IN SONG. Parents in Generations classes who might be self-conscious singers find themselves singing more confidently because of the Grandfriends' model. Hearing the elders sing out with delight—without concern about how "good" their voices sound—is inspiring.
REALIZE YOU'RE A ROCKSTAR. Many Grandfriends have been parents and grandparents themselves so the empathy and support you'll get from them is very real. After all, they've "been there, done that"!

ADOPT A NEW MINDSET. So many of us live far from extended family and don't have regular opportunities to interact with older adults in meaningful ways. Generations helps you to foster understanding, empathy, and appreciation for older people and for the aging process. Many Generations classes include active seniors. It's great to see different examples of what getting older looks like!
PASS IT ON. Many "legacy" songs that Grandfriends grew up with are getting lost. Families just don't know them anymore. Folksongs of many cultures are preserved in a Generations class.  You can feel good knowing you are helping to keep them alive in your own family!
Ask your local Music Together center if they offer a Generations class you and your children can sign up for. If they don't yet, you might be the spark that ignites a new opportunity for your community!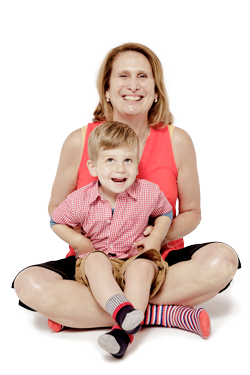 ---