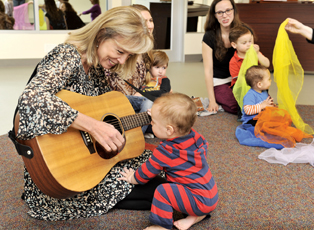 We are excited to announce Susan Darrow, longtime Music Together center director, Teacher Trainer, and our first Director of Educational Services, has assumed the position of CEO of Music Together LLC. She was named successor to Music Together's Founder/Artistic Director, Kenneth K. Guilmartin, who launched the organization in 1987.
In making the announcement, Ken said, "Susan has been part of Music Together since 1992 and has proven to be not only an extraordinary educator but also an extremely capable and visionary leader, from her beginnings as an outstanding center director to her more recent work in expanding our international teacher training team and educational services. She carries my passion and vision for Music Together deeply in her heart and mind, and I am personally excited about the future she will lead us to as CEO."
Susan said, "I am thrilled to take on the job of leading such a wonderful organization. The parents of the millions of children who have been touched by Music Together over the past twenty-eight years can attest to the extraordinary power of our program. Now it is time for us to build on the strong foundation that Ken has created and expand upon his vision for the company. I am excited to lead us to a future where music is a part of the lives of millions more families, all over the world."
Susan began her career as a parent educator and preschool teacher and began teaching Music Together classes at a parent resource center in Montclair, NJ, in the early 1990s. In 1996, she opened her own business, Music Together of Montclair, where she led a staff of 12 teachers and offered classes to over 1000 families each year. In 1998, she expanded her role at Music Together's headquarters when she became an educational workshop leader and teacher trainer. In her tenure as a teacher trainer, Susan trained thousands of new Music Together teachers worldwide.
In 2008, she became the company's first Director of Educational Services, where she was responsible for areas instrumental to Music Together's growth. She built and expanded the infrastructure for training, support, and continuing education for the more than 2,500 Music Together teachers who lead classes at licensed locations around the globe. Susan also led the development of two new programs, Music Together Within Therapy® (2011) and a revision of the Music Together® Babies curriculum (2012), and she was instrumental in leading the company to open centers in China, Taiwan, and Australia.
A pioneer of research-based early childhood music education, Music Together classes can be found in more than 2500 communities in over 40 countries.
Check out this article in the Princeton newspaper US1 to read more about Music Together's journey—and our future!