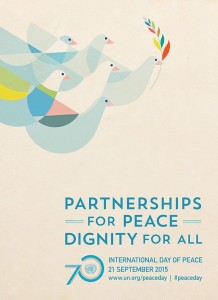 Families in U.S., Japan, China, Australia, Saudi Arabia, and more to sing for peace on September 21st:
To celebrate the United Nations' International Day of Peace on September 21, thousands of Music Together families with young children around the globe will participate in a livestream of our song for peace, "May All Children."
For 22 hours, families from around the globe will gather and sing "May All Children" in the 4 PM hour in their local time zones, creating an ongoing live presentation of the song from many different cultures. Children, parents, and teachers from more than 30 locations are participating in the event, including New Zealand, Australia, Japan, Taiwan, Saudi Arabia, Qatar, Croatia, Bermuda, and across the United States. The livestream will run for 22 hours on September 21, 2015, 12:00 AM to 10:00 PM Eastern Time at www.musictogether.com/peaceday2015.
According to Music Together CEO, Susan Darrow, "We feel deeply aligned with the UN's mission for the International Day of Peace and wanted to illustrate how the power of music and song can link all cultures and transcend our differences. Music brings people together no matter where they live or what they believe, and this international 'chorus' we are creating with a powerful song about peace is a great reminder on an important day."
"May All Children" was written by Kenneth K. Guilmartin, Founder/Artistic Director of Music Together, who composed the song in 1986 to celebrate the 40th anniversary of UNICEF.  He has since committed to donate all proceeds from the song's royalties to UNICEF. Guilmartin explains, "I wanted to write a song that would touch families all over the world with its simple, heartfelt wish that all children—that everyone—should live in peace. 'May All Children' is a wish for world peace, and has been sung millions of times in Music Together classes, choruses, and schools. I am so proud of this initiative to create this global livestream of families singing this song on the International Day of Peace, giving everyone a chance to witness the power of music."
Created by a United Nations resolution in 1981, the International Day of Peace is observed around the world on September 21. It is a day devoted to strengthening the ideals of peace, both within and among all nations and peoples.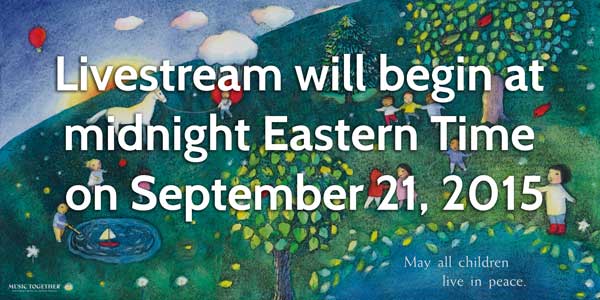 Check out the webpage musictogether.com/peaceday2015 for a full list of participating locations and to watch the livestream on September 21!