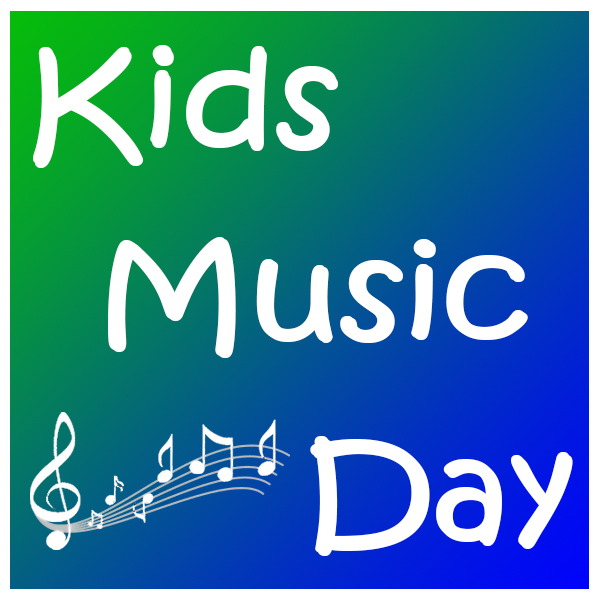 On Friday, October 5, we'll be celebrating the 3rd Annual Kids Music Day, and we hope you'll join in!
Founded by the national nonprofit organization Keep Music Alive, Kids Music Day was created to inspire music schools, retailers, and other organizations to hold events that honor and benefit kids making music. This year, as part of Kids Music Day weekend, an estimated 800-1,000 participants worldwide will hold open houses, instrument petting zoos, student performances, community and/or family jams, drumming and ukulele circles, and instrument donation drives. Find one in your neighborhood by visiting www.kidsmusicday.org.
Promoting the value of music in children's education—the goal of Kids Music Day—is clearly consonant with the mission of Music Together, so many of our centers are celebrating with special events or offers from Monday, October 1, through Sunday, October 14. Ask your center director to find out if there's anything planned near you!
Supporting Kids Music Day this year are several music industry leaders and other corporate sponsors, including CASIO EMI, Alfred Music, Remo, Conn-Selmer, Kala Brand Music, and Advantage Rent A Car. Celebrity artists, too, are showing their support for music education by signing on as Kids Music Day Ambassadors. Among these artists are such singers, songwriters, producers, composers, and instrumentalists as Julie Andrews, Richie Sambora, Nancy Wilson (Heart), Sarah McLachlan, Victor Wooten, Mandy Harvey, Jim Brickman, Bernie Williams, Siedah Garrett, Orianthi, Alma Deutscher, Todd Rundgren, Jan Hammer, Damien Escobar, Amy Holland, and Charlie Worsham.
Kids Music Day is actually one of two international holidays founded by Keep Music Alive. The other holiday, Teach Music Week, is held annually in March, and it also aligns closely with the principles of Music Together. In 2018, as part of the 4th Annual Teach Music Week, more than 600 music schools and retailers in the United States, Canada, and 10 additional countries offered free music lessons to new students—adults and children alike. March was chosen for this week-long celebration because March is also Music in Our Schools Month, doubly emphasizing how important it is for schools to include music in children's education. (March is also our own appreciation month, Sing With Your Child Month.)
Keep Music Alive was founded in 2014 by husband-and-wife team Vincent James and Joann Pierdomenico to inspire more children and adults to enjoy the educational, social, and therapeutic effects of playing music. According to them, "[E]very child deserves the opportunity to learn how to play music, and every adult needs to be reminded that it's never too late to start playing." In addition to creating Kids Music Day and Teach Music Week, Keep Music Alive has published the book 88+ Ways Music Can Change Your Life. Half the proceeds of sales of the book are donated to non-profits that support music instruction and education in schools and communities in need.
For information about Kids Music Day, visit www.kidsmusicday.org.