Returning to Music Together After Thirty Years
Every week, Alexa Gutter takes her nineteen-month-old son Julian to Music Together class in West Chester, Pennsylvania. She and Julian enjoy singing the "Hello Song" and playing instruments and dancing alongside Teacher Michelle. For Alexa, these rituals are even more meaningful since, as a toddler, she and her own mother, Aila Newton, shared these very same Music Together activities. The year was 1988, and the classes were held at the very first Music Together location in Princeton, New Jersey—and their teacher was none other than Music Together Founder/Artistic Director Ken Guilmartin, along with curriculum coauthor Lili M. Levinowitz, Ph.D.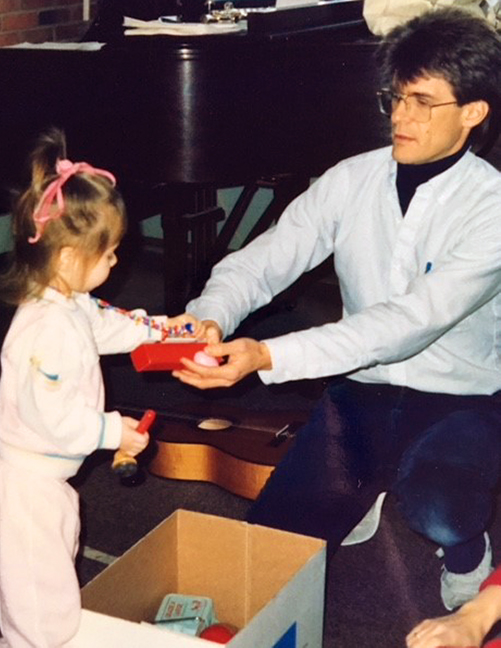 Alexa and Ken in 1988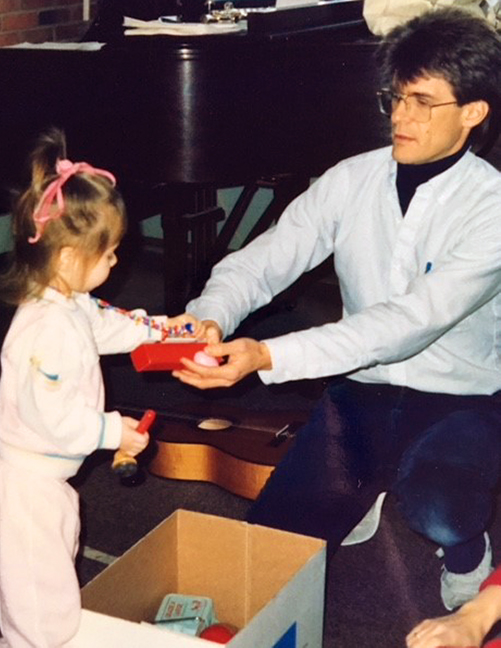 Alexa and Ken in 1988
Even though she was just three years old, Alexa's memories of Music Together are surprisingly vivid. "Before class, I remember that we would stop and look at the Princeton University chapel and admire the beautiful stained glass windows. There was a real specialness surrounding this time with my mom, because it was just the two of us and she really loved taking me to the classes."
Alexa recalls how excited she was to be in class, and the delight she and her mom felt as they sang, danced, and played instruments. "I loved those red sticks with the grooves in them!" she says with a laugh. "And I still remember Ken leading us, as we sang and moved around to certain songs, like 'A Ram Sam Sam.' That was one of my favorites."
Alexa's decision to enroll Julian in the Music Together program was certainly influenced by those early classes, and the special connection she shared with her mom through music. Aila passed away in 2009, and Alexa was apprehensive at first about how she would feel returning to Music Together as a mother herself. The first few classes were quite emotional for her, especially the "Hello Song" and "Goodbye, So Long, Farewell." Those moments brought her right back to the sense of love and security she had felt as a little girl having special time with her mom.
"Those songs were so familiar, it really activated these intense memories of being with my mom, and I was almost brought to tears," she explains. "But then I started to think about how cool that is that music can reach all the way back and bring out emotions like that. And it's not just the music part I remember; the together part also makes it special."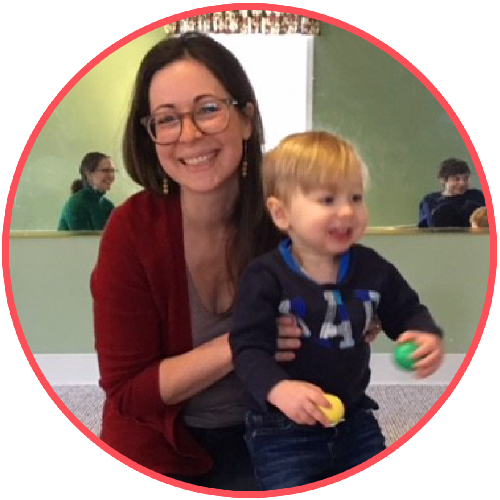 Alexa and Julian (2018)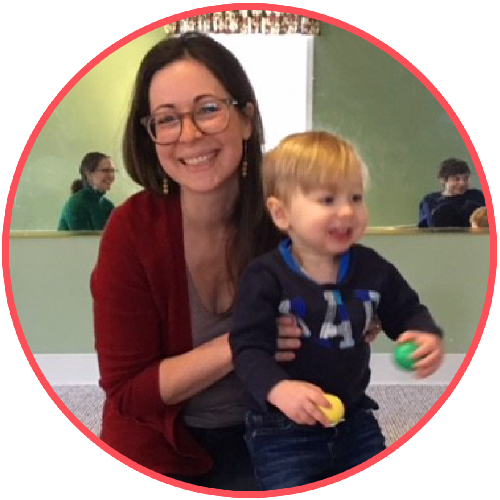 Alexa and Julian (2018)
Now, Alexa is happy to continue that musical togetherness with Julian and loves interacting with him as they sing and dance to some of the same songs she shared with her mom. "Julian loves the 'Hello Song,' too, and we substitute all kinds of words, such as singing hello to the dog," she laughs. "We also do lots of dancing with scarves and playing instruments at home, too, and we share the music with my husband Aaron. I have always loved singing, and coming to classes now makes me love it even more."
Alexa believes that her mother would be happy to learn she and Julian are experiencing the same Music Together songs and activities that were once so significant to her and her mom. "There are so many times that I wish I could talk to my mom about things, and making music with Julian is a comfort to me, knowing that she would love it. When you sign up for an activity, you don't often realize just how important something can become. This experience with Music Together goes deep for me, and carries more weight than I ever realized."