Hello, Music Together® Families
New Families
As a member of the Music Together family, you can download/stream your music and access exclusive content from the Family Music Zone® or Hello Everybody app. You'll first need to create an account through the app or by clicking Create Your Account.
Family Music/Access Code: Enter the code that's printed on the inside cover of your songbook/CD or download card.
Email address: This will become your account login.
Choose a password: Make sure it has at least 8 characters, including one symbol.
If you have any trouble creating your account, please see our FAQs or email support@musictogether.com.
Returning Families
If you already have a Music Together account, click here to log in with your registered email address and password and unlock your new song collection.
Check Out Our Hello Everybody App!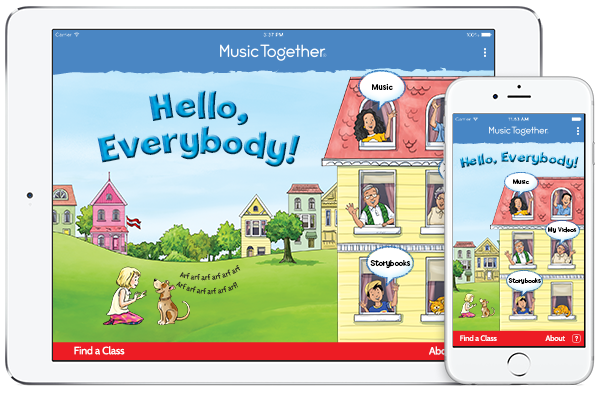 Hello Everybody for both Apple and Android devices makes it fun and easy to enjoy Music Together with your family. Log in with your Family Music Zone® account to get your Music Together music in the app. Stream the songs—or download them so your family can sing and play along even when you don't have Internet access. Plus, try some Music Together karaoke and have fun making and sharing your own family music videos!
Download the Hello Everybody app today from the App Store or Google Play!