Hello, Music Together® Families!
Create your account and log on today!
As a member of the Music Together family, you have access to the Family Music Zone™. Here, you'll be able to download this semester's songs, view a digital copy of your songbook, get new activities to try at home, and learn more about your child's music development.
First time here? Create a new Music Together account in three easy steps:
"Enter your Access Code": You'll need the "Family Access Code" that's printed on the inside front cover of your song collection CD. Enter the code into the box.
 
"Provide your email address": Enter your email address here. This will become your account login.
"Choose a password": Choose and confirm your password. Make sure it has at least 8 characters, including one or more symbols
If you have any trouble creating your account, please see our FAQs or contact email support@musictogether.com.
Returning family? Log in to your account and unlock this semester's content.
Thanks for continuing your family's Music Together journey. If you already have a Music Together account, click here to log in with your registered email address and password.
Once you've entered the Family Music Zone, look to the navigation in the upper righthand corner of the page. Click "Access Code," and you'll be prompted to enter this semester's Family Access Code (printed on the inside front cover of your song collected CD). After your code is accepted, the songs and activities for this semester will appear on the home page—and last semester's will move to your Library for you to re-visit at any time. 
Check Out Our Hello Everybody App!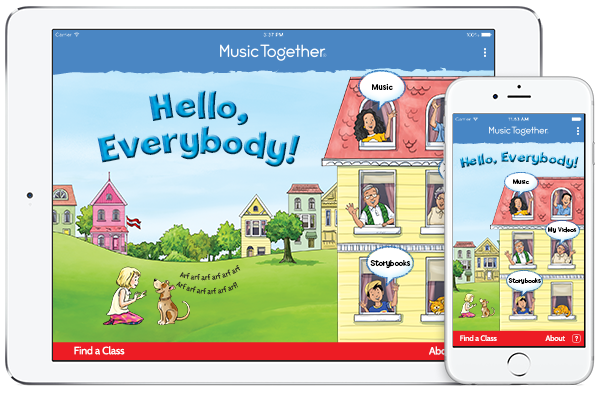 Hello Everybody for both Apple and Android devices makes it fun and easy to enjoy Music Together with your family. Log in with your Family Music Zone® account to get your Music Together music in the app. Stream the songs—or download them so your family can sing and play along even when you don't have Internet access. Plus, try some Music Together karaoke and have fun making and sharing your own family music videos!
Download the Hello Everybody app today from the App Store or Google Play!