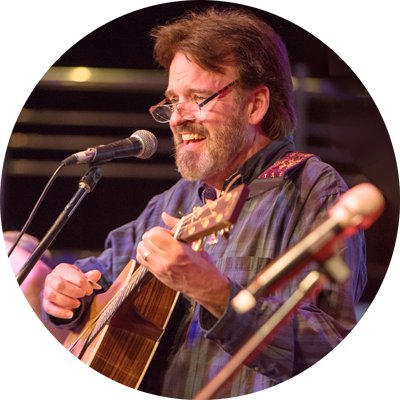 "Uncle Gerry"
On the Road with "Uncle Gerry"
It's hard not to notice acclaimed musician and song leader Gerry Dignan, who you might know as "Uncle Gerry." Tall, gregarious, and usually singing, the Music Together recording artist is charismatic, warm, and altogether charming. And these days, he might just show up in a town near you! Since 2012, Gerry has been touring the world performing at family music events at Music Together centers.
Just this year, Gerry has joined Music Together teachers and directors in more than 32 concerts across North America. This fall, China will be added to Taiwan and Ireland as international tour stops, as Gerry embarks on a 12-day tour of China.
"I am very honored and grateful to be a part of gatherings that celebrate love, friendship, and family life, as well as creativity, silliness, and the profound musical essence of our humanity," says Gerry. He and his wife and musical partner, Denise, are also moved by the fact that the majority of the gatherings are benefits for worthy causes. "This is a core principle that we revere," he comments. "We have the opportunity to support efforts that address many needs in our communities and, through the songs of Music Together, engage with others in acts of loving kindness."
Catherine Denmead is the director of Music Together of West Hartford and Farmington Valley in Connecticut, and since 2013, Gerry has been a part of an annual outdoor festival called "Peace, Love & Music Together: An International Day of Peace Celebration." This event is presented by Music Together Connecticut, a consortium of centers from around the state, and it is designed to spread a powerful message of peace and love through music-making.
One song that's become an event favorite is "This Train." Music Together teachers facilitate a human "peace train" that travels all around the festival grounds while Gerry sings the names of countries around the globe.
"The act of 'getting on board' gives the grownups a chance to stand up, model, and participate with their children, which is really fun, but also deeply meaningful," states Catherine. "Gerry is exceptionally gifted in leading songs about coming together and spreading a message of peace throughout the world."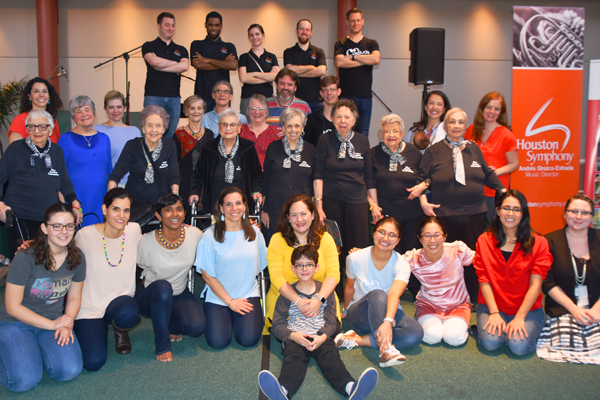 Prelude Music Foundation Fundraiser, Houston, Texas
Gerry's travels have also included concerts in Houston, Texas, where he has become a familiar face to the staff and families of Prelude Music Classes for Children, directed by Ana Trevino-Godfrey. This past February, Gerry and Denise participated in their sixth event with the Prelude team—a fundraiser to benefit Prelude's non-profit organization, the Prelude Music Foundation. This year's annual community music gathering was made even more special when Gerry was joined by extra special guests: Music Together Founder/Artistic Director, Kenneth K. Guilmartin; music composer/director Dr. Lyn Ransom; musicians from the Houston Symphony; and "grandfriends" from the Kazoo Ensemble of the Brookdale Senior Living Galleria.
"As soon as the 'Hello Song' started, I had to pinch myself," recalls Ana. "I could not believe what was happening in front of my eyes, with my beloved families and teachers singing along with Gerry and Ken!"
Last October, Gerry's travels brought him to the San Francisco Bay Area, and by a sheer twist of fate, his visit coincided with the horrific wildfires that ravaged Santa Rosa, California, and nearby areas. Long-time Santa Rosa Area Music Together director Ginger Parish lost her home and most of her possessions in the blaze, and the nearby Music Together communities quickly set out to find a way to help.
Cristal Garcia, director of Music Together of Marin, along with Justine Chadly, director of In Harmony Music, began planning a benefit concert. When Cristal discovered that Gerry was in the area, she asked him to be a part of it, and he agreed without hesitation. On October 22, just two weeks after the loss of Ginger's home, the "Musically Healing Our Hearts to Help Others" benefit concert was held in San Rafael, California, with all proceeds going to help Santa Rosa Area Music Together families who lost their homes in the fire.
"It all happened so organically, with directors and teachers from all over the area showing up to help, and to make music," says Cristal. "Having Gerry there was just amazing, and brought such a positive energy to the day. We were all in pain, and the musical comfort brought to everyone through joyful interaction helped us all to heal."
Ginger, who was able to attend the benefit and play the didgeridoo with Gerry during "Down Under," was comforted by the outpouring of love. "The concert was a balm for my soul," Ginger commented. "It was such a traumatic time for Santa Rosa, and the concert really helped buoy me up."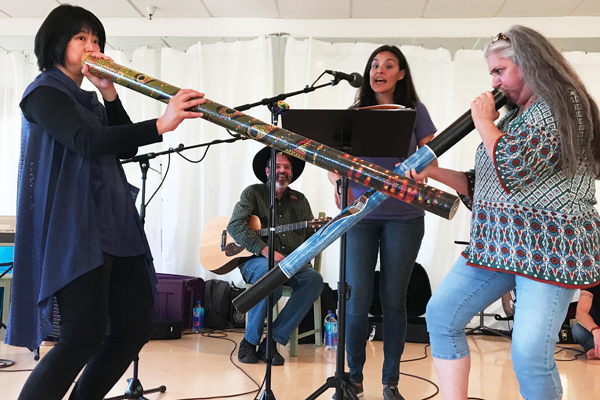 Benefit Concert for Families in Santa Rosa, CA
As Ana put it, "Watching parents dance and sing with their children with total abandon is a wonderful reminder of why we do what we do." There's nothing like making music to bring us together. And there's definitely no person quite like our beloved Uncle Gerry. Keep an eye out for your chance to join him at a concert in your neighborhood!
Just a few photos from Uncle Gerry's travels!