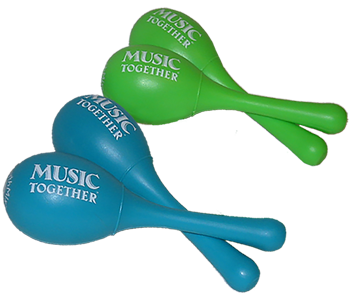 Chick-Itas
$ 7.00 pair
SKU P0178
Chick-Itas offer a great sound in a smaller size. Bright, child-friendly, colored egg-shaped shakers with the Music Together logo in non-peeling paint on non-toxic, high-impact plastic.
4 ¾" long in assorted colors. Matching pair of plastic egg-shaped shakers on handles. Filled with non-toxic steel shot to create a nice, crisp sound. Safe, very durable, and easy-to-clean.
Caution: Do not let egg shaker get wet. To clean, wipe with a cloth that has disinfectant solution on it.
Recommended for ages 2 and up.