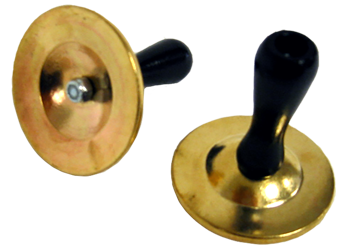 Finger Cymbals
$ 31.25 pair
SKU P0210
Beautifully toned, these brass finger cymbals include special easy-to-use "Wobble-Fit" wooden handles adapted for small hands.
Learn the basics of rhythm with these miniature cymbals. Strong elastic handles hold the cymbals in place. Perfect for home or classroom setting.
The cymbals meet the United States Consumer Product Safety Commission requirements for lead safety for children under 12 years old.