Resonator Bells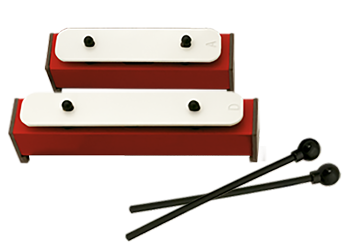 This red plastic resonator bell set includes D5 and A5 bells with two 7-1/4" long plastic mallets. We tested several brands of plastic resonator bells and these came out on top for best sound quality. There are no screws that can come loose, no red paint to peel, and the white metal plate is rounded on the edges for added safety. Age-rating: 3+ years.
Click on Learn More to read important safety warning.
Learn More
Caution
Children who are teething or prone to putting objects in their mouths should be given a baby-safe option, such as a large egg shaker, in lieu of these bells and mallets. All young children should be closely supervised when using the instruments in this category.