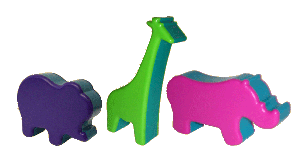 Animal Shakers
$ 12.00 for trio
SKU P0392
This fun trio of giraffe, elephant and rhino shakers has great sound and the easy-to-hold shapes make them ideal for children.
Safe, very durable, and easy-to-clean.
Caution: Do not let egg shaker get wet. To clean, wipe with a cloth that has disinfectant solution on it.
Recommended for ages 2 and up.