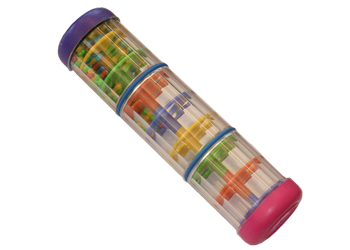 8" Rainmaker
$ 13.25 each
SKU P0387
This colorful, modern, see-through rain stick creates the soothing sound of falling rain and is visually appealing. A gentle flip starts the cascade of multi-colored beads through colored balconies all over again.
8" x 2" rainmaker. Made of child-safe, durable plastic. Now babies, toddlers, and preschoolers can join in the musical fun! Designed to fit perfectly in small hands.
Recommended for ages 6 months and up.