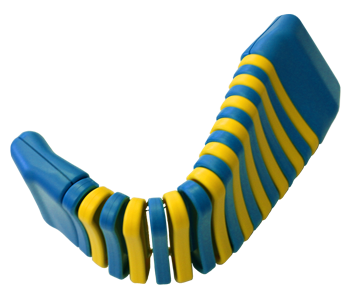 Clatterpillar
$ 13.25 each
SKU P0202
Variation on the traditional Japanese "kokiriko." Bend the easy-grip handles like a caterpillar to make it clatter! Colors will vary: blue and yellow, teal and yellow, red and yellow. Recommended for ages 3 and up.
Children can create a wave of sound when they flip their wrists. The clatterpillar makes an amazing sound as each colorful segment "clacks" against the next. Made of durable and "acoustically" designed plastic. Safe, very durable, and easy-to-clean.
Caution: Children really enjoy this, but it is an instrument, not a toy, and can be broken by enthusiastic youngsters. Recommended for ages 3 and up under adult supervision.