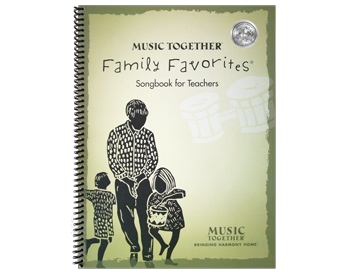 Music Together Family Favorites Songbook for Teachers
$ 29.95 each
SKU P0284
Awards

NAPPA Gold Award winner
A Parents' Choice Silver Honor Award winner
Association of Educational Publishers (AEP) 2010 Distinguished Achievement Award Winner
Reviews
"Every family needs a solid library of songs for movement, development, and parent-child interaction. This music program—which combines a CD of 19 favorite family songs with a songbook for teachers—does a great job supporting parents and teachers who want to help children develop their music skills. The songbook includes fun, music-making activities for each song, which are adaptable for use at home, in the car or in the preschool classroom. The featured collection of songs – which are fun to dance to and to sing along with your children – was developed by the good people at Music Together from their patented parent-child classes. NAPPA's parent testers especially liked the ideas and suggestions from the teacher's pages with activities for children of different ages and with special needs."
—National Parenting Publications Awards (NAPPA)
---
"I love the Family Favorites Songbook for Teachers! Our teachers like your song format, background information, curriculum surrounding the songs, and adaptations for special needs children. All in all, Music Together has thought through the material very well and incorporated the NAEYC standards. The materials show a solid understanding of how children experience and learn music. Through Music Together, students gain musicianship skills that last their whole lives: the development of a steady beat through lively movement activities, the ability to sing on pitch, and a lifelong appreciation of music from a wide variety of cultures and styles. This particular set of songs reflects the 'best of the best'—appealing songs from all nine Music Together song collections."
—Dian Wisdom, Director, Dupree Center for Children, Princeton Theological Seminary, Princeton, NJ
---
"The Family Favorites Songbook for Teachers is an amazing teaching tool! This songbook includes teaching principles which incorporate the Music Together philosophy and approach to the musical development of children. The repetition of this research is important for my Fine Arts course which consists of undergraduate students at Texas Christian University. I use this collection to teach Early Childhood Education, Speech-Language Pathology, and Child Development majors how to use music with children in their future careers."
—Jennifer DeSantis, Coordinator of Early Childhood Music, Texas Christian University
---
"Chock full of information about the magical moments of making music together, the Family Favorites collection now includes a Songbook for Teachers, which provides musical notation, cultural background, and accompanying ideas—for both preschoolers and older children—for dramatic play, art activities, ideas, and even suggestions how the songs might best work for children with special needs... Educators and parents will instantly recognize the workbook as a treasure trove of creative ways music can be integrated into the lives of young children."
—Lahri Bond ©2010 Parents' Choice
---
"The Family Favorites Songbook for Teachers provides music therapists, early childhood education teachers, early interventionists, support staff, and parents of children with special needs with a fun way to integrate music and movement into their special needs programs. I use the Music Together program with my clients and their families and the benefits extend through all areas of development. This resource will be a tremendous addition to many existing treatment programs."
—Angela M. Guerriero, M.Ed., MA, MT-BC, Founder and Director, Tempo! Music Therapy
---
This companion songbook to the award-winning Family Favorites CD is designed especially for all those who work musically with children, whether in preschools, homeschool settings, early elementary classes, church groups, or clinical settings.
This songbook will show you how to create a musically rich environment where children learn to move rhythmically, to sing, and to develop listening and improvisation skills through playful, developmentally appropriate activities.
Each song is followed by "teacher pages" that outline suggested activities for a variety of settings. All song activities and teaching tips are based on the Music Together teaching practices which have been perfected over two decades by thousands of teachers, parents, caregivers, and children all around the world.
Listen to songs on the Family Favorites CD.
Learn more about the award-winning Family Favorites CD.
Learn more about Music Together's Teacher Training program.
This product is only available to college students.