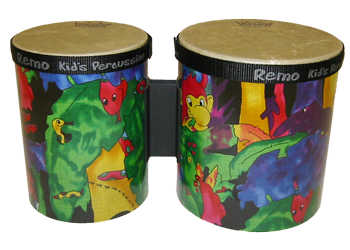 Kid's Bongos
$ 45.00 each
SKU P0170
Oooo! So bright and colorful, with jungle foliage and animals. These bongos are very engaging for young drummers.
Clear, high-pitched sound won't get lost or overpowered. Drums are pre-tuned—the larger drum produces the base note, while the smaller head sounds the tenor note. Drums made with a child-safe Acousticon body and Fiberskyn head. Safe, very durable, and easy to clean.
Bongo Set: 5" x 6-½" and 6" x 6-½".

Recommended for ages 3 and up.